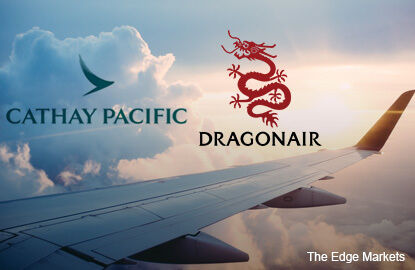 KUALA LUMPUR (Aug 16): Dragonair, which is part of the Cathay Pacific Group, will operate four daily flights between Kuala Lumpur and Hong Kong next year, further strengthening the airline's regional network.
Cathay Pacific will cease its four daily flights from Kuala Lumpur upon the launch of the new Dragonair service, according to a joint statement from the two airlines.
Additionally, five of Cathay Pacific's Airbus A330 aircraft will be transferred to the Dragonair fleet to support the airline's operation and growth.
The new flights will be introduced progressively between March and May 2017.
Kuala Lumpur will become Dragonair's third destination in Malaysia; the airline already operates 11 weekly flights to Penang and five weekly flights to Kota Kinabalu. Together with Kuala Lumpur, Dragonair will be operating 44 weekly flights to Malaysia.
"We continually review the expansion and growth plans for both Cathay Pacific and Dragonair, the latter of which will be renamed Cathay Dragon in November," said Cathay Pacific Group director of corporate development and information technology Paul Loo.
"While Dragonair is launching services to Kuala Lumpur, Cathay Pacific is also growing its network of destinations, as reflected by our latest launch to Madrid in June and the upcoming service to Gatwick in London next month," he added.