Click / Tap image to enlarge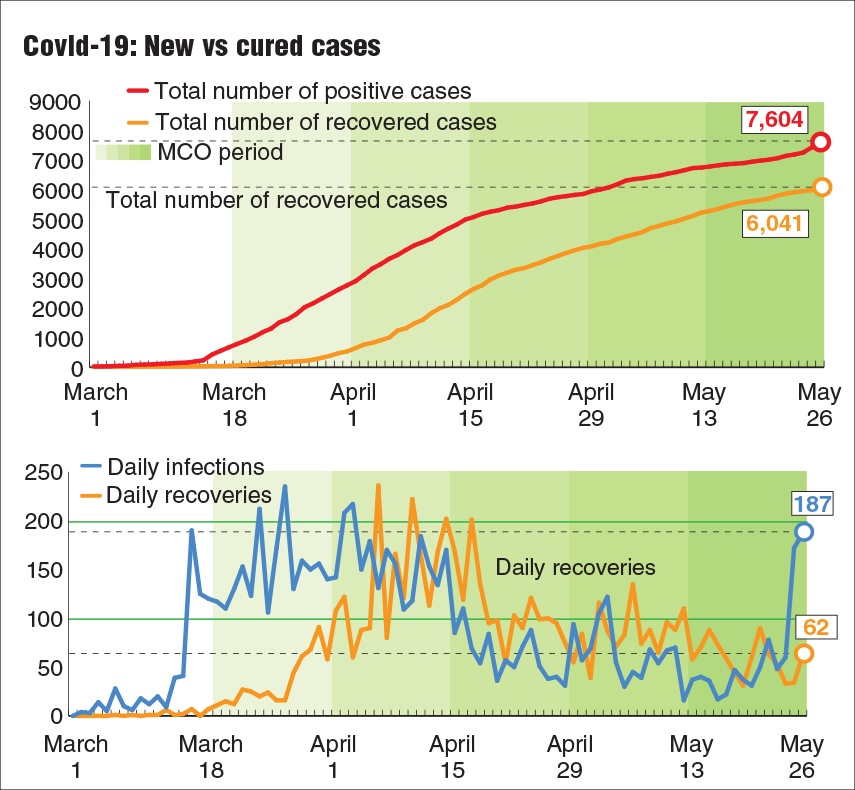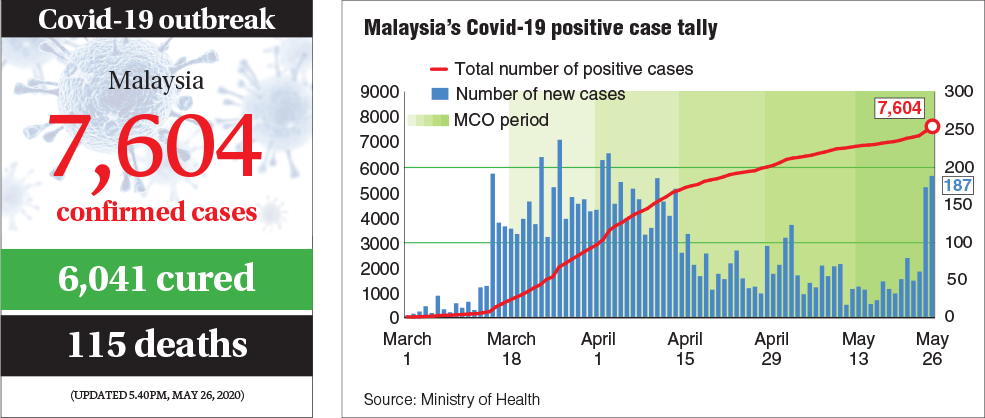 Click / Tap image to enlarge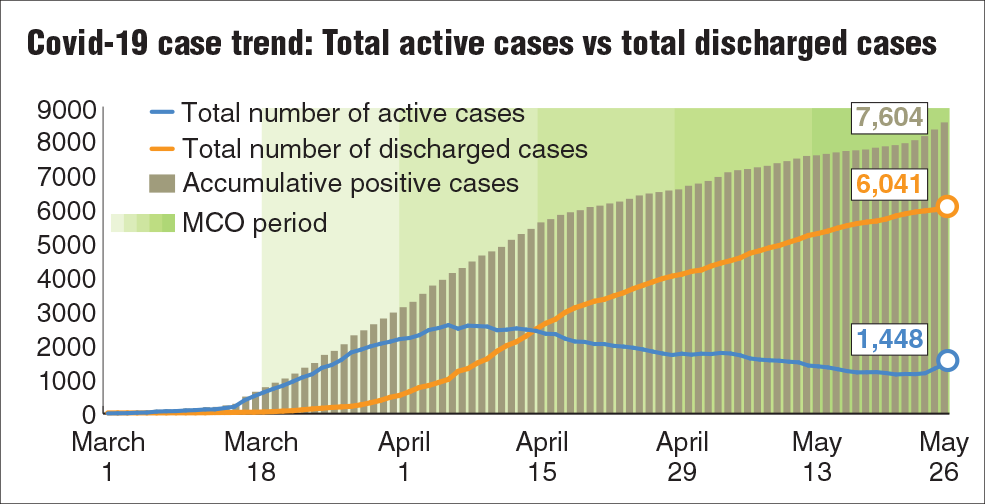 Click / Tap image to enlarge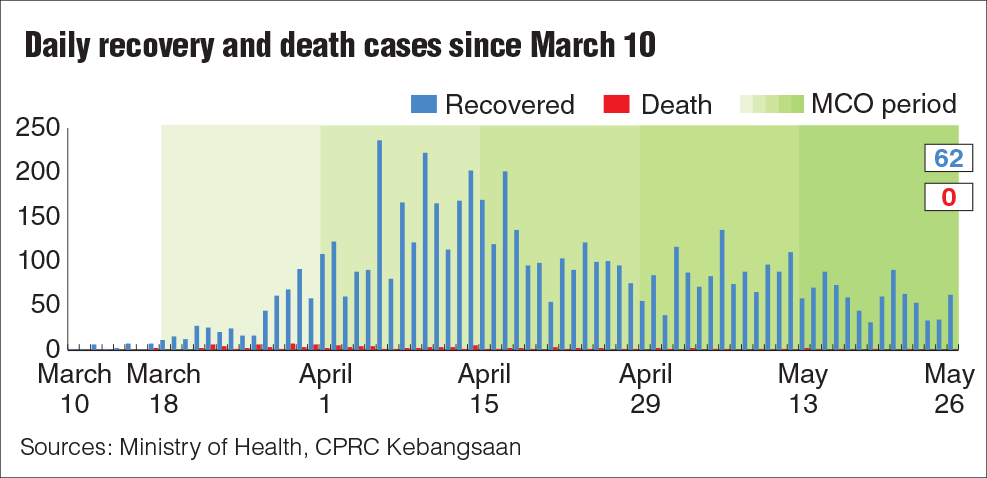 Click / Tap image to enlarge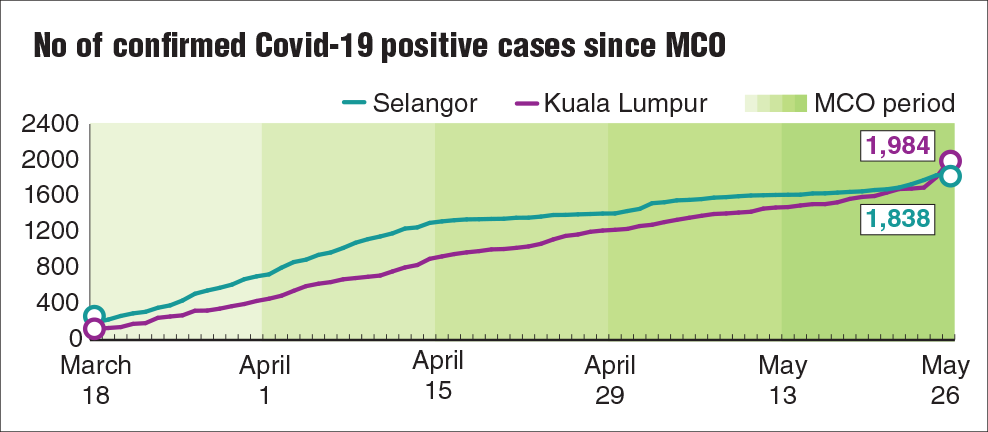 KUALA LUMPUR (May 26): Health director-general Datuk Dr Noor Hisham Abdullah said Malaysia reported 187 new Covid-19 cases as at noon today, bringing the nation's cumulative number of cases to 7,604.
During a press conference at Putrajaya today, Dr Noor Hisham said that out of the 187 reported new cases, 10 were imported while 177 were local.
He said 62 patients have recovered today and were discharged, bringing the total recoveries to 6,041, representing 79.4% of the cumulative number of cases so far.
"There were no Covid-19-related deaths reported as at noon today. As such, the cumulative number of deaths remains at 115 so far," said Dr Noor Hisham, who had also issued to reporters a press statement on Malaysia's daily Covid-19 updates.
Dr Noor Hisham said there were 1,448 active cases, and these patients have been isolated and given medical treatment.
On the 187 new cases as at noon today, Dr Noor Hisham said the 10 imported cases comprised seven Malaysians and three permanent residents. 
According to him, out of the 177 local cases, 173 involved non-Malaysians, of which 155 were detected at the Bukit Jalil Immigration Detention Depot while 13 were from the Cheras security guard cluster.
In geographical terms, the new cases were detected in Kuala Lumpur (177), Selangor (9) and Negeri Sembilan (1), Dr Noor Hisham said.
He said the cumulative number of cases in Kuala Lumpur and Selangor stood at 1,984 and 1,838 respectively while the Negeri Sembilan figure stood at 793.
Today, the number of fresh cases in the country had climbed past 100 for the second consecutive day.
Yesterday, the 172 new Covid-19 cases reported was the first time in about three weeks the number of fresh cases in the nation had touched three digits.
On May 3, the country reported 122 new cases followed by 55 fresh ones on May 4, according to the Health Ministry's website.
Read also: Cramped living space, poor hygiene cause of Covid-19 infection among foreign workers — Health DG
#dudukrumahdiamdiam and get the news at theedgemarkets.com.