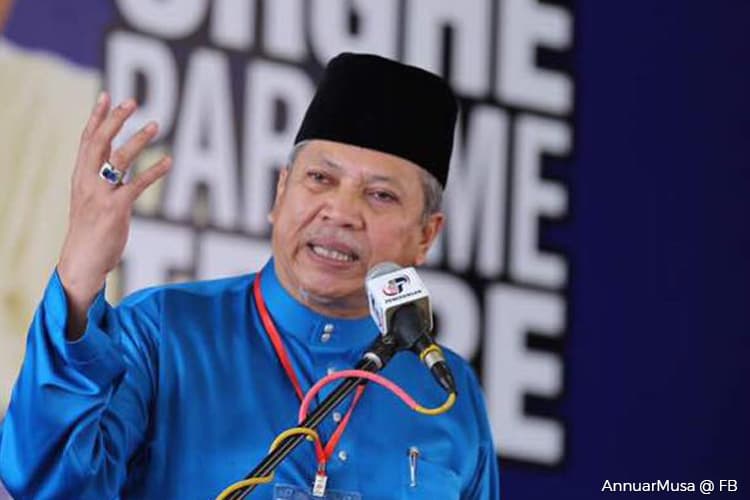 KUALA LUMPUR (Oct 21): Tun Dr Mahathir Mohamad should remain as prime minister (PM) as long as possible to preserve Malaysia's political stability, according to UMNO secretary general Tan Sri Annuar Musa.
Annuar told reporters at the Parliament lobby here today that political stability is important when the country's economic prospect in 2020 is bleak.
"With Dr Mahathir's experience and he being the unifying factor within PH (Pakatan Harapan), I personally think that Dr Mahathir should be there as long as he can discharge his duty. I am sure (PKR president) Datuk Seri Anwar Ibrahim can wait.
"PH must put a stop to all forms of internal manoeuvrings and trying to push out the PM. I am not saying Anwar is not capable, but Dr Mahathir is already there, and he performed his duty very well, with (a) good track record. Why don't we just allow him to do his job, and give all the support he needs ?
"The country must come first, I think it is quite worrisome to see our economy not going in the right direction. The year 2020 looks very bleak, the world economy tends to be very uncertain, fuel prices may not work in our advantage, and Malaysia is losing (out) to neighbouring countries in many aspects. With that, I think what is important is political stability in monitoring and managing the economy, so this polemic of leadership transition is not good for the country," Annuar said.
Annuar said Barisan Nasional (BN) politicians should not be collateral damage due to conflicts among PH politicians. Annuar said disintegration within PH will impact the country's economy.
"Don't worry about the opposition, we have made up our minds we will continue as the opposition. We will work together among (with) all opposition (parties), and we will let our Muafakat Nasional become (the) alternative choice for the people in (the) 15th General Election. We are not going to form a backdoor government, we have to strengthen ourselves.
"No point forming a government through the backdoor while the people are not happy with us, we are not in hurry of taking over the government," he said.