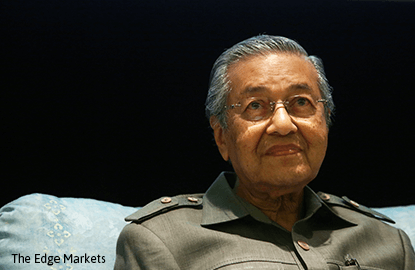 KUALA LUMPUR (Jan 5): The attorney-general will ignore the findings of the Malaysian Anti-Corruption Commission (MACC) on the RM2.6 billion political donation and SRC International's RM42 million, says Tun Dr Mahathir Mohamad as quoted by Free Malaysia Today.
In an exclusive interview with the news portal, Dr Mahathir said Tan Sri Apandi Ali earlier rejected Bank Negara Malaysia's report on 1Malaysia Development Bhd (1MDB), and the same would likely happen with the MACC report.
"I think he (Apandi) will reject it (MACC's report) too. But this is just my prediction," he told the news portal at his Perdana Leadership Foundation office in Putrajaya yesterday.
In the report, Dr Mahathir said Bank Negara had submitted its findings to the A-G on 1MDB, and the national bank was not some institution without rules.
"They made detailed investigation on it and had certain evidence which required the case be brought to court. But the A-G rejected it blindly.
"So I would not be surprised if the A-G rejects this (MACC's report) too," he told the portal.
On December 31, MACC deputy commissioner Datuk Seri Mohd Shukri Abdull said in a press statement that the agency had handed over investigations papers on the donation and on SRC International, after interviews with more than 100 people, including the donor of the RM2.6 billion.
MACC has been investigating SRC International over a RM4 billion fund, and not Najib's brainchild 1MDB, the agency has clarified in the past.
The RM2.6 billion was also a separate probe, but Shukri on December 31 said it was still not completed as only witnesses in Malaysia have been interviewed.
He said MACC has yet to obtain documents and statements involving overseas financial transactions and it was seeking the A-G's help to get these through mutual legal assistance.
Najib, who is also the finance minister, has denied that the RM2.6 billion in his personal bank accounts was from 1MDB, nor was the money for his personal gain.