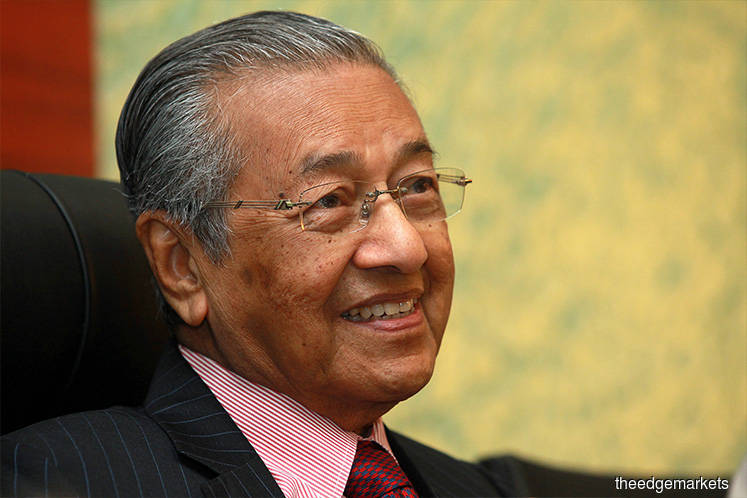 KUALA LUMPUR (May 11): Pakatan Harapan will hold its first Presidential Council meeting today after its historic win in the 14th General Election (GE14), which saw the coalition forming a government with a simple majority.
Prime Minister Tun Dr Mahathir Mohamad in his first address to the local and international media after being sworn in as the seventh Prime Minister said the meeting will discuss the formation of the new Cabinet.
"Tomorrow (today) is a holiday. But I will not take any holiday.. Although I'm the Prime Minister, I'm bound to consider the views of the component parties, How we divide the number of ministers between us.
"There are quite a number of things we need to do.. some are officially required and some are on policy decisions. So it will be a very busy time," said the 92-year old leader.
Dr Mahathir who led the four member coalition of PPBM, PKR, DAP and Amanah, had on Wednesday marked a stunning victory in the GE14, dethroning Barisan Nasional which had ruled the country for six decades.
Also present at the news conference were  PKR president Datuk Seri Dr Wan Azizah Wan Ismail, PPBM president Tan Sri Muhyiddin Yassin, Amanah president Mohamad Sabu and DAP Secretary-General Lim Guan Eng. 
Addressing reporters at the highly anticipated press conference, he also thanked Malaysians who had given the coalition courage and hope. 
"The enthusiasm was really fantastic, never seen in Malaysian political history," he said. 
He said prior to the election, Pakatan Harapan had only predicted to be able to win around 100 Parliamentary seats in  Peninsular Malaysia and some in Sabah and Sarawak, but it turned out that it had successfully achieved more than 120 Parliamentary seats nationwide. 
"We have achieved the simple majority which enabled us to form the government," he said.
Dr Mahathir who has returned to serve as Prime Minister for the second time, said he will govern the country based on the Constitution and laws of this country. 
"We are particularly keen to ensure that the Constitution is upheld and the law of this country is what will guide us in our administration," he said.
He said his government will also abolish laws that are  oppressive and unfair such as the anti-fake news and the National Security Council acts.
He also seeks to help individuals who had come forward to help Pakatan Harapan during the election campaign through funding and support.
He believed that more would have wished they had the guts to come out like Tan Sri Rafidah Aziz, Tun Daim Zainuddin and Tan Sri Rais Yatim (to support Pakatan Harapan)  "but of course guts is a commodity that is scarce in this country".
"We had enough people with guts to come forward and send us money. They don't tell people... they come quietly because you know what will happen to them (f they did).
"If they are seen too close to Pakatan Harapan in particular close to me, they will be visited by the income tax department and sometimes the MACC and they are forced to pay additional tax which are not due from  them," he revealed.
Dr Mahathir said Pakatan Harapan intended to study how much they had been forced to pay and would like to reimburse them, as well as ensure justice for some good government officers who had been demoted.
"We will study their cases and if they deserve it, they will be promoted," he said.
Commenting on the political situation in Sabah, he said earlier counts had found that Parti Warisan Sabah (Warisan) had won 32 or 33 state seats, but subsequent recounts had reduced the number to 29 seats. 
He said this was followed by attempts to buy over some winners so that the previous party could set up the state government besides attempts to block Warisan president Datuk Seri Mohd Shafie Apdal from being declaring the winner and forming the new state government.
"This is very unfortunate because I know Shafie has got tremendous support from the people, wherever he went and yet when polling was over, the Election Commission found that there should be recount after recount,"  he said. 
Dr Mahathir had served as Malaysia's fourth prime minister from 1981 to 2003.