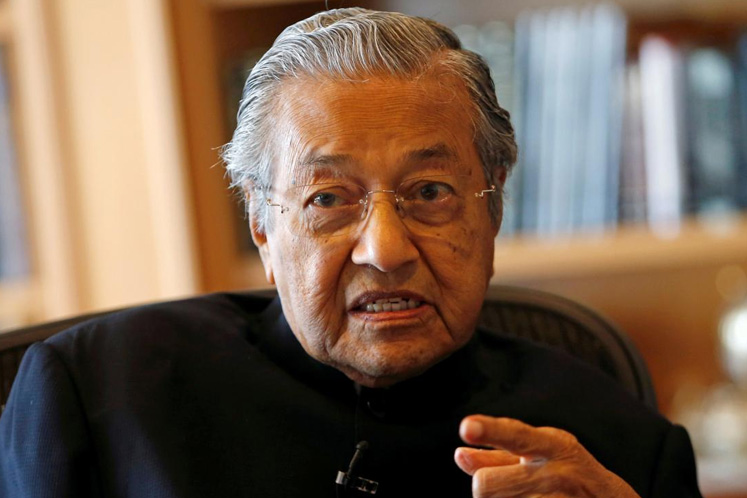 KUALA LUMPUR (May 18): Prime Minister Tun Dr Mahathir Mohamad has announced the Pakatan Harapan government's Cabinet line-up in a statement today, comprising 15 Ministers including the Prime Minister and his deputy, who will be sworn in at the Istana Negara on Monday (May 21) at 11.30am.
Dr Mahathir has also let go of the Education Ministry portfolio to honour PH's election manifesto pledge, and has appointed Parti Pribumi Bersatu Malaysia's Simpang Renggam Member of Parliament, Dr Maszlee Malik, to helm the Ministry.
"That is a provision of the manifesto, I cannot break it at the moment, unless of course there is a demand that I should take up education. I cannot pass [the portfolio] to my deputy (Datuk Seri Wan Azizah), she is already given a ministry. There is no restriction on the deputy, only on the Prime Minister," Dr Mahathir said in a video snippet shared by Bersatu on Facebook.
The video was shared just minutes before the statement on the new Cabinet line-up was released.
"I would like to (take on Education Ministry), otherwise why should I choose that ministry. Before that, the PM and Deputy Prime Minister (DPM) used to alternate between [the] Defence and Home Affairs Ministries. If the PM takes Home Affairs, the deputy takes Defence, [and] sometimes we change. But now, it is different: Defence goes to Mat Sabu (Haji Mohamad bin Sabu), Home Affairs goes to Tan Sri Muhyiddin Yassin, they are not PM or DPM," he said.
Including Dr Mahathir's PM post, there are four Cabinet posts for Bersatu. Similarly, Parti Keadilan Rakyat has four Cabinet posts, including the Deputy Prime Ministership, as well as DAP. Only Parti Amanah Negara has three.
Notably, Selangor Menteri Besar Datuk Seri Azmin Ali from PKR has also been appointed the Minister of Economic Affairs.
Dr Mahathir had an audience with the King, Sultan Muhammad V, to submit the names of those to be appointed as Federal Ministers at 5pm today, to which the King has consented.
Below is the full Cabinet list:
1. Prime Minister – Tun Dr Mahathir Mohamad (Bersatu – Langkawi)
2. Deputy Prime Minister – Datuk Seri Wan Azizah Wan Ismail (PKR – Pandan)
Bersatu:
3. Home Minister — Tan Sri Muhyiddin Yassin (Bersatu – Pagoh)
4. Education Minister — Dr Maszlee Malik (Bersatu – Simpang Renggam)
5. Minister of Rural Development — Rina Harun (Bersatu – Titiwangsa)
PKR:
6. Minister of Women and Family Development — Wan Azizah (PKR – Pandan)
7. Minister of Economic Affairs — Datuk Seri Mohamed Azmin Ali (PKR – Gombak)
8. Minister of Housing and Local Government — Datuk Zuraida Kamaruddin (PKR – Ampang)
DAP:
9. Minister of Finance — Lim Guan Eng (DAP – Bagan)
10. Minister of Transport — Anthony Loke Siew Fook (DAP – Seremban)
11. Minister of Communications and Multimedia — Gobind Singh Deo (DAP – Puchong)
12. Human Resource Minister — Kulasegaran s/o V Murugeson (DAP – Ipoh Barat)
Amanah:
13. Defence Minister — Haji Mohamad Sabu (Amanah – Kota Raja)
14. Minister of Agriculture and Agro-based Industry — Haji Salahuddin Ayub (Amanah – Pulai)
15. Health Minister — Dr Haji Dzulkefly Ahmad (Amanah – Kuala Selangor)