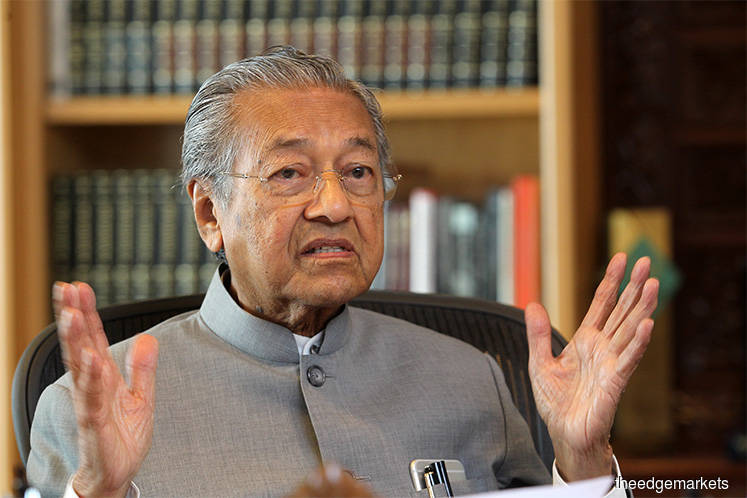 KUALA LUMPUR (June 22): Prime Minister Tun Dr Mahathir Mohamad said it was impossible for his immediate predecessor Datuk Seri Najib Tun Razak to be unaware of 1Malaysia Development Berhad (1MDB) transactions as he had claimed in an interview recently.
Dr Mahathir said Najib's signature was all over the related documents involving the state fund corporation.
"Who wants to believe him that he didn't know when he signed (his name)? Every bit of money that goes in and out of the first borrowing of RM42 billion, all his signature.
"If he doesn't know, it must be that he doesn't understand what a signature means," Dr Mahathir said in an exclusive interview with the Malay Mail published by the daily today.
The interview was in response to an exclusive interview by Reuters which was published by the news agency on Wednesday.
In the interview with Reuters, Najib was quoted as saying that he did not benefit from 1MDB because he believed that the corporation was created to do something good for the country.
"If I knew there was going to be a misappropriation of funds, if that was my knowledge, I would have acted," he was quoted as saying.
Najib was also quoted by Reuters as saying that some US$681 million transferred into his personal bank account was, from what he knew, a donation from the late king of Saudi Arabia, claiming that he had no knowledge of any transactions involving his personal account as he had appointed Nik Faisal Ariff Kamil, then director of SRC International, a former 1MDB unit, to manage it.
On this, Dr Mahathir told the Malay Mail that it was ludicrous for someone to direct RM2 billion (the US$681 million) to be transferred into his account but refusing to be informed about the money trail.
"This cannot be. Because I have to sign to use the money. To use the money, I have to issue cheques. Najib always assumes that people are stupid," he said.
Dr Mahathir claimed that there were documents proving the opposite of what the former prime minister said.
"We have all those. We know how much money goes into his account," Dr Mahathir said.
1MDB was reported to have amassed RM42 billion in debt since its inception in 2009.
The Prime Minister had told Reuters earlier that the first arrest in the 1MDB case was expected to be made within months and "hopefully" a trial would start by the end of the year.