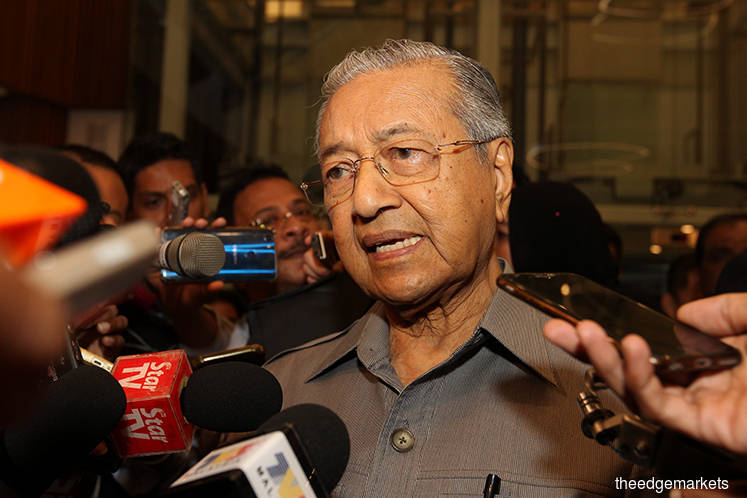 KUALA LUMPUR (Aug 27): The recommendations made by the Council of Eminent Persons (CEP) will not be revealed to the public as its function is to report to the country's Prime Minister, said Tun Dr Mahathir Mohamad.
"It is government business. When we make a decision in government, it does not need to be made public," said the prime minister.
The report contains information that he needs to make decisions, he told the press at Cities 4.0 + Business 4.0 conference here this morning.
"The CEP has volunteered the time to do work that I otherwise have to do. The work that I have to do, I cannot even finish," said Dr Mahathir.
The prime minister pointed out that he could not work well with some senior government officials, noting that his previous administration had "no crooks".
"We have (government officials) who have been subverted by (former prime minister Datuk Seri) Najib (Razak). I can't work with them, but I don't have time to sort out who should be taken action against," he said when explaining why the need for the CEP to carry out its duty.
Dr Mahathir was asked whether the CEP's 100-day report would be made public.
The CEP, which had been established after the 14th general election in order to advise the new government on economic and institutional reforms, had recently submitted its 100-day report to the prime minister.
Dr Mahathir has said the CEP will continue its advisory role to the government, despite its initial mandate being only to run for the first 100 days of the new administration.
The CEP is led by former finance minister Tun Daim Zainuddin and includes former Bank Negara Malaysia governor Tan Sri Dr Zeti Akhtar Aziz, former Petroliam Nasional Bhd chief executive officer Tan Sri Mohd Hassan Marican, business magnate Robert Kuok and economist Professor Dr Jomo Kwame Sundaram.