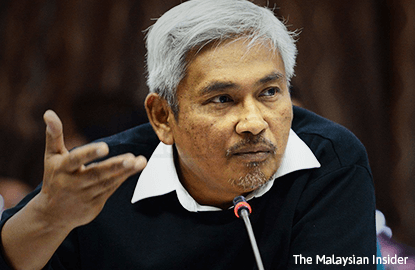 (Nov 12): A council to advise the prime minister, as mooted by Tun Dr Mahathir Mohamed, does not have a place in Malaysia's Federal Constitution, law expert Dr Abdul Aziz Bari has said.
The Universiti Selangor (Unisel) lecturer told The Malaysian Insider in an email that installing the council would only worsen the system of governance.
"I have to say that minister (Datuk Seri Salleh) Said Keruak was right to say that TDM's (Dr Mahathir) suggestion to have a council advising the PM has no place in the Constitution, which follows the Westminster system.
"Mahathir was basically doing what the Malays say 'tikus baiki labu'," said Aziz, referring to a Malay proverb, which means making a situation worse by trying to fix it without having the proper knowledge.
Aziz said control of a sitting government should be done through a system known as responsible government, where the prime minister is subject to questions and motions of confidence by the legislative branch of government.
Aziz was responding to Dr Mahathir's admission that he suggested to G25, a group of pro-moderation former top civil servants, that the prime minister be advised by an appointed council.
The retired leader, who is the most vocal critic of current prime minister Datuk Seri Najib Razak, said the council was necessary as the Cabinet, which is appointed by the pime minister would likely greenlight all his decisions.
But Aziz, who sits on the Selangor DAP committee, warned that Dr Mahathir had a "habit of tampering the system".
Dr Mahathir's biggest disservice was weakening the system through the assault on the judiciary as well as the emasculation of Parliament, including abolishing an independent parliamentary service in 1993, said Aziz.
Aziz also said that in 1982, the country's longest-serving prime minister placed a non-elected Speaker in the Dewan Rakyat – Tun Mohamed Zahir Ismail, a retired high court judge.
He reminded the public that Zahir was also chairman of the tribunal which dismissed former Lord President Tun Salleh Abas from office in 1988.
Aziz added that before Dr Mahathir became prime minister in 1982, the attorney-general would sit in the Dewan Rakyat and be subjected to questions from lawmakers.
But Dr Mahathir discontinued that practice and appointed a civil servant, Tan Sri Abu Talib Othman, as the attorney-general, said Aziz.
"These are some of the changes introduced by Dr Mahathir that had systematically weakened the checks and balances system, and this has frustrated all the initiatives to bring those responsible in the 1MDB (1Malaysia Development Berhad) scandal to book," said Aziz. – The Malaysian Insider