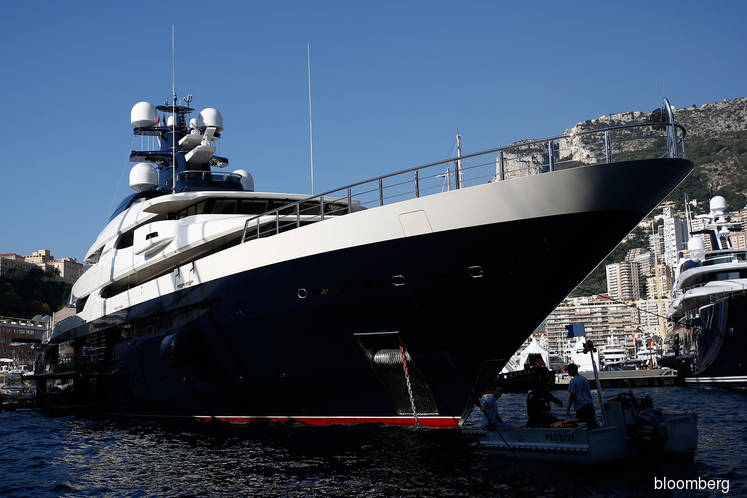 KUALA LUMPUR (Aug 6): Prime Minister Tun Dr Mahathir Mohamad, in expressing his gratitude today to the Indonesian government for their cooperation in returning the superyacht Equanimity to the Malaysian government, said any party wanting to claim ownership of the superyacht must come forward with proof of ownership.
"We want to know where they can get so much money to buy a very expensive yacht. If they can prove that the money [used to buy Equanimity] came from themselves and not from stolen money, then they are entitled to the yacht," Dr Mahathir said in a two and a half minute video posted on his Facebook page from Fukuoka, Japan, today.
"However, according to the reports and investigations done by the US Department of Justice, they are of the opinion that this vessel was purchased with stolen money from 1MDB," Mahathir added.  
Equanimity, worth US$250 million (RM1 billion), is expected to arrive in Port Klang tomorrow, according to news reports, after the authorities of Indonesia and Malaysia reached an agreement and conducted the handover of the yacht in Batam. 
The superyacht was seized by Indonesian authorities in February off the coast of Bali. The seizure was later declared null based on technical grounds.
Indonesian police seized the boat again in July following a formal request for legal assistance from the US. Indonesian police previously said they would hand the yacht over to Malaysia but did not specify when.
"I would like to thank Indonesia, especially President Jokowi [Widodo], for the close cooperation with Malaysia and the assistance they provided to solve one of the problems we are facing. We believe this vessel belongs to the Malaysian government because it was bought with Malaysian money stolen by certain parties," Dr Mahathir said in the video.
Dr Mahathir is in Fukuoka for the annual Japan Future Leaders' lecture session entitled "How future leaders in Asia can create future map for next generation – message from [a] 93-year-old to teenagers."