This article first appeared in The Edge Financial Daily, on February 27, 2020.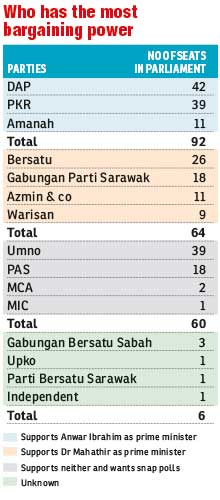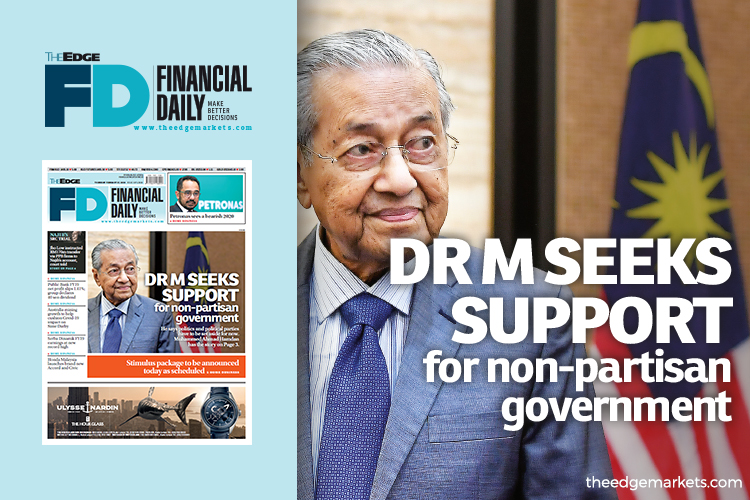 KUALA LUMPUR: As the nation waits for the Yang di-Pertuan Agong to determine who commands the numbers to form the new government, Tun Dr Mahathir Mohamad said he would be willing to reassume the premiership if he still has the majority support.
If this pans out, the interim prime minister said he would establish a non-partisan national administration to govern the country in the "best interests of the people".
Dr Mahathir said this in a special address broadcast live on national television yesterday, his first public appearance after submitting his resignation as prime minister to the king on Monday, which led to the dissolution of the Pakatan Harapan government. The ruler subsequently reappointed Dr Mahathir as interim premier.
Dr Mahathir's address came amid news that the remaining Pakatan leaders have nominated PKR president Datuk Seri Anwar Ibrahim as their candidate for prime minister, in what is seen to be a move to reject a "unity government" that includes the previous Umno-led administration.
Earlier, Umno and PAS leaders had also expressed their disagreement to Dr Mahathir's proposal to form a unity government given that it would include DAP.
In his five-minute speech, Dr Mahathir said he wanted a cabinet shaped by capable individuals who prioritise national interests instead of their parties.
"I do not look for something that would make me liked by many. I will do what I think is best for the country. Rightly or wrongly, politics and political parties have to be set aside for now," he said.
"If it is indeed true that I still have the majority support [in the Dewan Rakyat], then I will return [as prime minister]. Otherwise, I will accept whoever is chosen as my successor," he added.
The interim premier expressed regret and apologised to Malaysians for his shock resignation, as it may have been viewed by some as "wrong".
Saying that as an ordinary human being, he is not immune to making mistakes, Dr Mahathir gave assurance
that his priority has always been in the best interest of the nation.
Dr Mahathir's resignation as prime minister and chairman of Parti Pribumi Bersatu Malaysia (Bersatu) surprised everyone as he had been saying that he wanted to stay on as the premier until after Malaysia hosts the Apec meeting in November.
His untimely resignation as premier had united political parties of both divides, albeit briefly, in favour of the nonagenarian's leadership.
It was reported that 130 statutory declarations representing mostly opposition members of parliament (MPs) — in support of Dr Mahathir's premiership — had been gathered under a collaboration called Perikatan Nasional.
This is on top of Pakatan leaders declaring their continued support for Dr Mahathir as prime minister.
However, this unprecedented turn of events was short-lived after leaders of both divides backtracked on the grounds that a unity government simply cannot work.
Yesterday, the King concluded his two-day interview with 221 MPs at Istana Negara to decide on the prime minister position and subsequently, to form a new government.