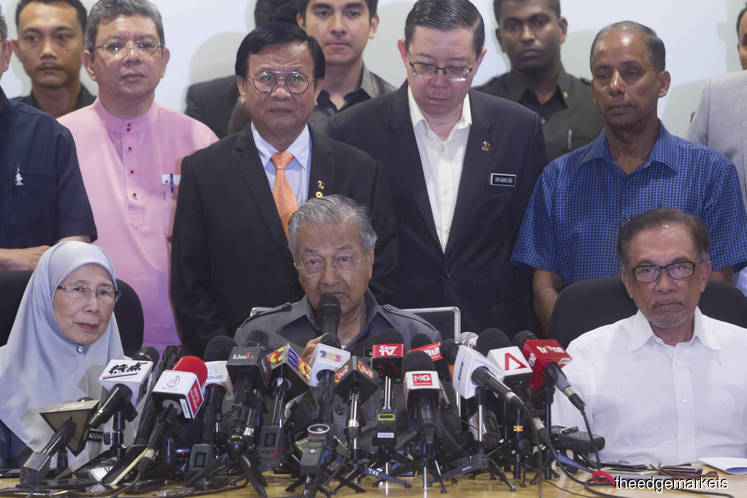 Dr Mahathir speaking to the press after the Pakatan Harapan (PH) presidential council meeting at Yayasan Al-Bukhary today. Members of the PH coalition are also present at the press conference. Photo by Patrick Goh.
KUALA LUMPUR (Jan 4): Amid rumours of abdication, Prime Minister Tun Dr Mahathir Mohamad confirmed that Sultan Muhammad V has returned and resumed his duties as Agong.
"As far as I know, yes," Dr Mahathir told reporters after chairing the Pakatan Harapan presidential council meeting at Yayasan Al-Bukhary here today, which was the first meeting this year.
At the same time, Dr Mahathir also said he is unaware of any meeting by the Rulers' Council, which was rumoured to discuss Sultan Muhammad V's abdication of the Agong duty and finding his next replacement.
"I have not received any information, or official letter about this matter. Like you, I have also heard rumours and I will not comment anything on this," he added.
Quoting highly placed sources, the New Straits Times reported that the Malay rulers had a rare and an unscheduled meeting to discuss, among others, Sultan Muhammad V's Agong role.
Last year, Sultan Muhammad V took a leave of absence, and the Agong duties were taken over by Perak's Sultan Nazrin Shah for two months, which ended on Dec 31, 2018.
During his absence, which was said to be due to medical treatment, it was reported that Sultan Muhammad V had wed a former Russian beauty queen in Moscow.
On April 24, 2017, Sultan Muhammad V was installed as the country's 15th king for a period of five years.