This article first appeared in The Edge Financial Daily, on September 19, 2018.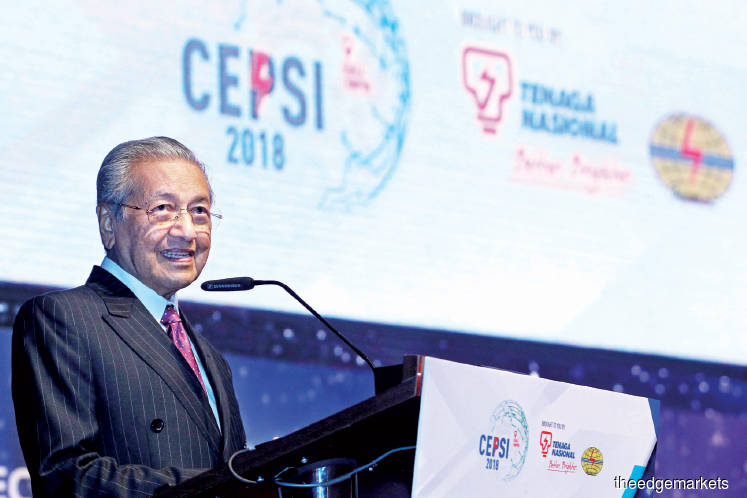 KUALA LUMPUR: Prime Minister Tun Dr Mahathir Mohamad said Malaysia will not want to generate electricity with nuclear power, at least not under his administration.
Dr Mahathir commented that though it may be cheaper to generate electricity from nuclear material, Malaysia will not do so simply because of the waste disposal issue.
"The waste from radiated materials is not easy to dispose of, we may need to bury it deep in the ground. If we throw it into the sea, the fish will suffer and we cannot eat the fish.
"So where do we put the waste, that is the question. Although science has made tremendous inventions in the field of electricity, science has not been able to deal with the waste materials after they cease to be a source of power," said Dr Mahathir in his special address at the 22nd Conference of the Electric Power Supply Industry hosted by Tenaga Nasional Bhd yesterday
The prime minister cited a "bad experience" the country had with nuclear material in the past.
"Malaysia produces tin, and other than tin we also produce a substance called amang [tin tailing], a black substance which at one time was used to produce colour televisions but of course amang has got to be activated before it can perform.
"Later on people found other ways to make colour televisions so they did not want amang anymore, but the amang was already activated and we were then left with a residue of [the substance] in this country which is very dangerous because people cannot go near the activated amang due to radiation.
"So we had a long haggling with the company that made use of the activated amang and eventually we agreed to bury this substance in a large area, and we had to bury it under thick cement to prevent the radiation from affecting people. That was our experience with material that produces radiation, and what we learnt from that is the waste from radiated material is not easy to dispose," he said.
In his trademark wit, Dr Mahathir remarked that the no nuclear plant policy was in place back when he was the fourth prime minister, but it was not the policy of his two successors, namely Tun Abdullah Ahmad Badawi and Datuk Seri Najib Razak.
"When I was prime minister before there were two things that people did not do, they don't smoke near me and they don't generate electricity using nuclear power.
"If you have a huge number of nuclear power plants, getting rid of the waste will be a big problem for society, and because of that we decided not to use nuclear material for generating electricity in Malaysia," he said.
The prime minister added that Malaysia will still depend on other materials and fuels for generation of electricity, such as coal.
"We are buying coal from elsewhere now but I think one way of reducing our costs will be to exploit the coal available in our country, not just in Batu Arang but in Sabah and Sarawak," he said.
Dr Mahathir concluded his speech by saying that conferences like Cepsi are important as they allow for the learning and exchanging of ideas on how to apply electricity to simplify our everyday lives.