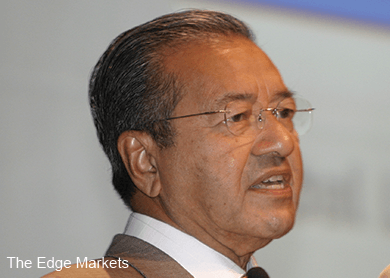 SHAH ALAM: Tun Dr Mahathir Mohamad has brushed off Prime Minister Datuk Seri Najib Razak's assurance that the 1Malaysia Development Bhd (1MDB) crisis can be resolved by the end of the year.
The former prime minister said he is not confident this could be achieved, adding that he will continue to talk about everything that went wrong with 1MDB.
"I'm not confident because things have gone wrong, there is no money," Dr Mahathir told reporters, after witnessing the signing of the memorandum of understanding and licence agreement between Proton Holdings Bhd, Suzuki Motor Corp and DRB-Hicom Bhd at the Proton Centre of Excellence here yesterday.
"It's okay that he wants to do it, [but] in the mean time we have to talk about what went wrong."
Dr Mahathir also said he was not attacking Najib but only highlighting the irregularities in 1MDB.
"I'm not attacking him, I'm just exposing things that are wrong. I don't complain when things are fine.
"I supported him back then until he won, albeit a small margin."
Dr Mahathir also said Datuk Ahmad Maslan could say whatever he wants to, after the deputy finance minister's remark that Dr Mahathir's actions could negatively affect the country's economy and image.
Dr Mahathir has been relentless in attacking Najib over 1MDB and calling for his resignation. — The Malaysian Insider
This article first appeared in The Edge Financial Daily, on June 16, 2015.