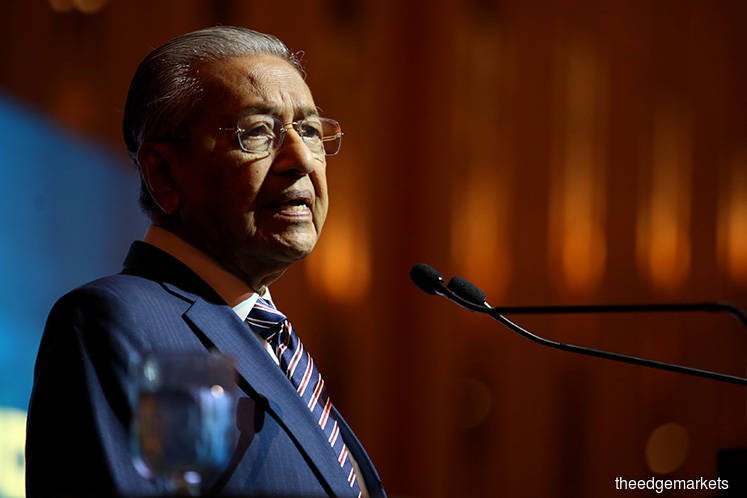 PUTRAJAYA (May 18): Tun Dr Mahathir Mohamad said it is his right to push for a motion for a vote of no confidence against Prime Minister Tan Sri Muhyiddin Yassin, regardless of whether he succeeds or not in voting the incumbent premier out.
During a press conference at the Perdana Leadership Centre today, he said that the current government, under Muhyiddin's leadership, had not properly addressed the Covid-19 pandemic, particularly in terms of the disbursement of financial assistance to businesses.
"We found that the allocated funds to assist the companies had not been disbursed. There are many businesses that have not received assistance," he said.
This is on top of the other promises not being honoured by the prime minister, which includes the changing of his stance on Datuk Seri Najib Razak, Dr Mahathir said, as while Muhyiddin previously vouched to go against Najib, he is now working with Najib instead.
He also reiterated that Muhyiddin, who previously motioned for Parti Pribumi Bersatu Malaysia (Bersatu) to leave the Pakatan Harapan coalition, did not have any discussion on the matter with the High Council, which should have rendered Muhyiddin's action invalid.
"There was no motion discussed by the High Council. He just did as he pleased," said Dr Mahathir.
Asked if he is confident that he has the majority of votes for the motion of no confidence against Muhyiddin, Dr Mahathir said that it does not matter whether he has the majority or otherwise, as it is still his right as a Member of Parliament (MP) to file this motion.
"To move a vote of no confidence is the right of every MP irrespective of whether he thinks he is going to win or lose. When we expose the wrongdoing of the government, although some say we would not have majority, good sense will prevail.
"If we expose the wrongdoing, maybe there will be some that will support us," he said, adding that the current government had a very narrow majority, which means that the shifting of two or more MPs towards Pakatan will significantly tip the balance of majority.
Mahathir spoke at a press conference at the Perdana Leadership Centre today, following the conclusion of Yang d-Pertuan Agong's speech in Parliament this morning.
The former premier said the press conference was held at the centre as they were not allowed to have a press conference in Parliament.
"Normally we are allowed, but this time we are not allowed. That is the extent of the freedom of speech that we have in Parliament. Even in Parliament, we are not allowed to speak," he said.
Meanwhile, he said that the Parliament sitting today was organised smoothly, despite the pandemic, and said that today was an example of how sessions can continue, albeit with precautions in place.