This article first appeared in The Edge Financial Daily, on May 26, 2017.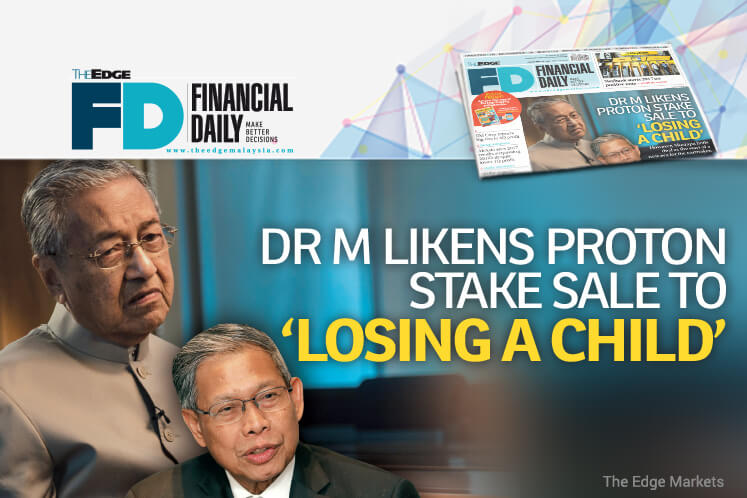 KUALA LUMPUR: Former prime minister Tun Dr Mahathir Mohamad has likened the sale of a 49.9% stake in Proton Holdings Bhd to a Chinese company to "losing a child".
"They say Proton is my brainchild. Now, the child of my brain has been sold," said Dr Mahathir, who is considered the father of Proton.
"I am a sissy. I cry even if Malaysians are dry-eyed. My child is lost. And soon my country," he wrote in a blog post on chedet.cc yesterday.
According to Dr Mahathir, the sale of the stake to China's Zhejiang Geely Holding Group Co Ltd meant that Proton can no longer be the national car of Malaysia.
"I am sure Proton will do well. It will be a commercial success ... sold all over the world. The Proton name will be everywhere.
"But I cannot be proud of its success. I cannot be proud of the success of something that does not belong to me or my country. Maybe other Malaysians will, but not me," he said.
Dr Mahathir, who is known for his sharp wit, displayed somewhat a sombre tone in his post, which he entitled "Proton".
"I will die soon. I am already beyond [the] average age. And as I slip into my final years, or months or days, I will watch as our beloved country is sold to foreigners to settle the trillion ringgit that we owe.
"We will have to sell more and more of our country. What are our assets? Our land, of course! That was what we did in the past. We sold chunks of our country. We lost the land we sold. That is what we are doing now. And that will be what we will have to do — or forfeit our country, like we forfeit Proton," he said.
International Trade and Industry Minister Datuk Seri Mustapa Mohamed had a more positive take on the stake sale — he called it the beginning of a new era for the national carmaker.
"The partnership with Geely will mark the beginning of a new era for Proton. It is still a long road ahead, but I believe this is a step in the right direction," he said in a statement.
Mustapa said the business decision made by DRB-Hicom Bhd, which owns Proton, was one that took into account the interests of the company and its 10,000 employees, as well as another 50,000 workers in its supply chain.
"Geely will be able to provide a lot of boosts to Proton's sale performance and bottom line. I am sure this is a development long awaited by 350 parts and components manufacturers, as well as support and services-related vendors in the Proton ecosystem," he said.
The minister said Geely has a proven track record and is one of the top Chinese automotive companies. Its sales in China grew 50% last year to 766,000 vehicles.
"Its acquisition of Volvo in 2010 has been a success. Volvo recorded sales of 540,000 vehicles last year, an increase of over 200,000 units than the amount sold in 2009, prior to the acquisition," he added.
On the acquisition of Lotus by Geely, Mustapa said this will remove one of the challenges facing Proton, as the British sports car maker has been struggling financially.
"The total exit of Lotus from Proton will also remove one of the main challenges facing Proton in about a decade," he said.
Mustapa said he hopes the deal will enable Proton to have access to existing markets of the Chinese carmaker, especially in China as well as right-hand drive markets in Southeast Asia.
"The partnership will also allow Proton to tap into Geely's technology and research and development facilities, including a range of platforms and power trains.
"More importantly, it could also fully realise the potential of Proton's production plants in Tanjung Malim and Shah Alam, which have a combined capacity of 380,000 units. In the last few years, Proton has only been operating at 40% of its full capacity," he said.
Analysts were also positive on prospects for DRB-Hicom with the Proton-Geely deal.
RHB Research called it a win-win situation, noting that Geely brings a "strong suite of production expertise, best practices and ready-made models to be leveraged on in the short term, including an effective distribution and aftersales business model". RHB Research has a "buy" call on DRB-Hicom, with a target price (TP) of RM2.77.
HLIB Research, meanwhile, views the partnership positively, saying it would relieve the burden on DRB-Hicom and allow the group to refocus its resources on other strategic businesses. HLIB Research has a "buy" call on the stock, with a TP of RM2.58.