This article first appeared in The Edge Financial Daily, on October 3, 2018.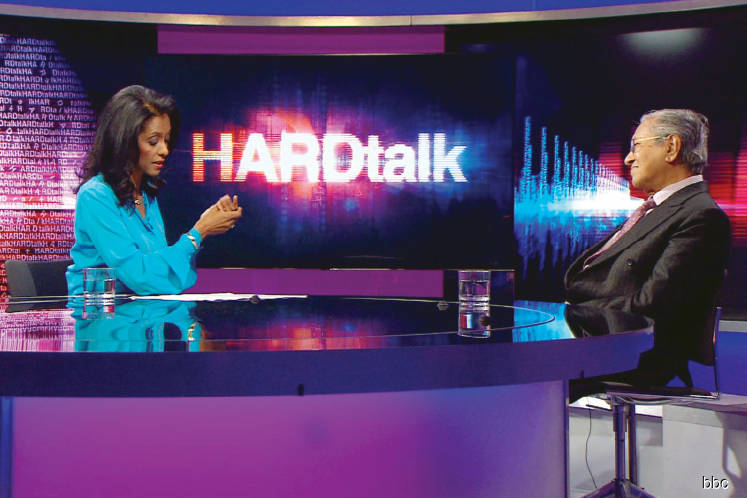 Prime Minister Tun Dr Mahathir Mohamad was interviewed by Zeinab Badawi on BBC's 'HARDtalk' on Monday, where they spoke in-depth about China's ambitions in the South China Sea, when he plans on leaving his seat, and whether he apologised to his former deputy, Datuk Seri Anwar Ibrahim.
"I merely said that there are other forms of colonialism and one of them is neocolonialism, which was coined by [former Indonesian] president Sukarno. That's what I said. I didn't accuse the Chinese," he said when asked about the debt colonialism he talked about recently after cancelling some China-backed mega infrastructure projects in the country.
Below is an excerpt of the interview, which was aired on 'BBC World News':
'One Belt One Road is okay, but...'
Q: One very eye-catching policy you've made is to cancel US$23 billion (RM95.22 billion) worth of infrastructure projects backed by China and also Singapore, and this has caused some concern amongst international investors that you've done this. You've referred to what you call as debt colonialism on the part of the Chinese. Are you worried about the Chinese being a colonial?
A: I did not accuse the Chinese. I merely said that there are other forms of colonialism and one of them is neo colonialism, which was coined by [former Indonesian] president Sukarno. That's what I said. I didn't accuse the Chinese.
Q: President Sukarno of Indonesia … former. Are you worried about the Chinese though — when you say a new form of colonialism — is that who you are pointing the finger at?
A: They're still coming. They still want to invest in Malaysia. They've seen me. Many of them have seen me even recently and they don't seem to be in any way angry with me because of what I said regarding colonialism.
Q: But do you see them as bringing about a new form of colonialism with their One Belt, One Road infrastructure projects?
A: No, no, no, not at all. One Belt, One Road is okay. But you see some people sell land, big pieces of land, to the Chinese where they are going to build a city which is very, very luxurious meant for their people to come and live there — 700,000 of them. That is not foreign direct investment. Foreign direct investment is about bringing money, bringing investment, setting up plants in Malaysia, employing Malaysians. That we accept.
Q: So you don't want Chinese people coming to settle in Malaysia?
A: No. No country wants other people to come en masse to their country and settle there. Look at what's happening in Europe now.
Q: Do you think that's …
A: They are telling all the Syrians to go away.
Q: That's not the matter.
A: Because [US President] Donald Trump has built a big wall against Mexico.
Q: Is it because you don't want another … you don't want ethnic Chinese living in Malaysia to upset the balance?
A: It's not the Chinese. Even the Sudanese are welcome. But if you come by the millions, sorry no entry.
Q: You've also referred to the South China Sea in your recent United Nations speech and of course we've got a big dispute there between China and some of its Asian neighbours, Malaysia, the Philippines, and so on. Are you worried that China is flexing its muscles there?
A: I explained that China has the right to go wherever they want to go but please don't check on ships or prevent ships from passing through the Straits of Malacca and the South China Sea. That is all we want.
Q: And could you see this escalating?
A: It may escalate if people begin to irritate and provoke China.
Q: Would you be one of those who might provoke China?
A: Well somebody who is comparable in size and strength.
Q: Well who's that? Who's that? [Is] the United States you're thinking of?
A: You can guess. I don't have to mention the word. I'm not allowed.
Q: So are you saying there could be a conflagration, a military one, between the United States and China over the South China Sea?
A: Our policy is not to have battleships and warships in the South China Sea because if people start stationing their warships there, there will be tension; there will be conflict and it may result in a war.
'Yes' to stepping down at 95
Q: At 93, [Dr] Mahathir Mohamad, with all respect, do you have the energy and vision to take Malaysia forward and accomplish the reforms that are needed to set the country on a new path to prosperity?
A: I try, I will try and I think my last stint as prime minister did not result in people condemning me for not developing the country. They even called the country an Asian tiger during my last stint. Now I've been asked to do something. I will try.
Q: When will you stop? Two years and hand over to Anwar Ibrahim, as has been reported?
A: If that is what the nation wants then I will stop. But I have made a promise and I will stick by my promise.
Q: Two years and then you'll step down and at 95?
A: Yes.
'I never apologised to Anwar'
Q: He (Anwar) told the BBC in June that [Dr] Mahathir Mohamad had told him that he had made a mistake and that he wants the chance to make amends. That's what you told him?
A: That is his opinion.
Q: Well that's what he said you told him.
A: I didn't tell him that.
Q: You didn't?
A: I didn't tell him but other people put words into my mouth because they want me to apologise but I've never made any formal apologies to him.
Q: You haven't? You don't regret what happened to him?
A: Well, I regret that he has to go to jail but …
Q: Not seeing his children and all the rest of it?
A: No. I can't take the blame for his jailing because it was decided by the courts. It wasn't done by me.
Q: But do you feel sorry for him that he went through what he did?
A: Well, I feel sorry for people who have done something and been sentenced to jail by the court.
Q: It's interesting because this is his exact quote that he says because he's reassured his supporters of your transformation because you know a lot of people were upset about what happened to Anwar Ibrahim when you were prime minister. He says, '[Dr] Mahathir has proven his tenacity, accepted past limitations, apologised and sacrificed his time and energy to raise the dignity of the people and the country', [and] you've brought [Datuk Seri Dr] Wan Azizah [Wan Ismail], Anwar Ibrahim's wife as your deputy prime minister. So is all this not true, that you didn't apologise that you didn't express regret?
A: No, this was not discussed. After that we were concentrating on getting rid of [Datuk Seri] Najib [Razak].
Q: Alright, so he says he's also raised with you the fact that you have brought back some of the old guard into your government. And he has said, 'Look, I'm concerned about this', and you said to him, 'Look, I need these people because I need them to carry out the reforms that we want to'?
A: If he joins the government and becomes the prime minister that would be an old guard also because he was with me as deputy prime minister for a very long time. So if I cannot bring back people who have served me then I think I will have to rely on people with no experience, and these people who join me, they have the same opinion about Najib's government so they want to join together, form a coalition and contest against Najib. — BBC