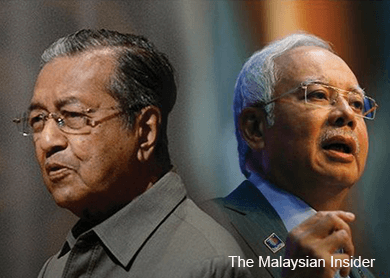 KUALA LUMPUR (Apr 2): Tun Dr Mahathir Mohamad today made his harshest criticism against Datuk Seri Najib Razak, saying that Malaysians do not trust the prime minister and predicting that the ruling Barisan Nasional (BN) will lose the next polls if the Umno president remains in power.
Malaysia's longest serving prime minister had already withdrawn his support for Najib last year over policy differences and had said the prime minister should resign.
"Malaysians, whether Malays, Chinese, India or the people in Sabah and Sarawak no longer trust Datuk Seri Najib. Umno members and their leaders must realsie that Umno and with it, BN will lose if Datuk Seri Najib leads Umno to GE14.
"When Umno loses, the Malays will curse the leadership which has made the party so weak until it is rejected by the Malays themselves. Once Umno loses, it cannot be rehabilitated any more," Dr Mahathir wrote in his popular blog chedet.cc today.
In the lengthy post, the former prime minister listed down various allegations made against Najib and noted that none of them had been adequately answered.
Dr Mahathir said these included the murder of Mongolian interpreter Altantuya Shaariibuu and the claims made by one of her convicted murderers, former commando Sirul Azhar Umar, who was a former bodyguard of Najib's.
Noting Sirul's claim that he had been "under orders" to kill Altantuya, Dr Mahathir said such an allegation ought to be investigated because Sirul had worked for Najib.
"This is a human life. It would be cruel if Sirul was subjected to the death penalty for carrying out instructions," he wrote.
Dr Mahathir also delved into the problems surrounding Finance Ministry-owned 1Malaysia Development Bhd (1MBD), questioning the need for Putrajaya to give it a standby credit facility of almost RM1billion, the fund's purchase of government land and its dubious deal with little-known oil company, PetroSaudi International.
He then questioned the source of funds for Najib's stepson Riza Aziz to purchase luxury properties in New York through businessman Low Taek Jho.
He also did not spare mention of the new private jet purchased for Najib, describing it as a "waste" since the government already had other jets to use.
"There are many other allegations and questions against 1MDB that was set up by Datuk Seri Najib and which is controlled by him as adviser that have not been answered, other than to deny and call the allegations lies.
"The reports in New York and London newspapers are extremely embarrassing for the country," Dr Mahathir added, referring to foreign media reports on 1MDB and Low.
The country's longest-serving prime minister said it pained him to reveal this.
"Many loyal members and Umno leaders will blindly follow the leadership. I am also loyal but my loyalty is to the party and the Malays that it represents.
"It is not easy for me to write this blog post. But for the sake of the race and the country I have to expose all this.
"I am not yet senile even though I am nearing 90 years of age. Whoever says I am senile are fooling themselves.
"Malays will only be saved if they prioritise their 'bangsa' above themselves."