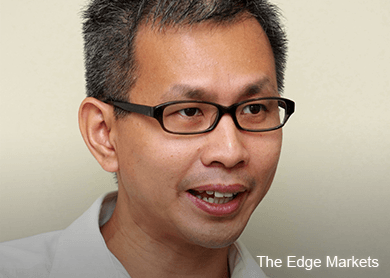 (June 25): Former prime minister Tun Dr Mahathir Mohamad today defended Public Accounts Committee (PAC) member Tony Pua's right to speak out against debt-riddled 1Malaysia Development Bhd (1MDB).
He said those who criticised the DAP lawmaker for being biased should realise the bi-partisan panel mostly comprised biased Umno MPs.
"They said Tony Pua is biased, that he is one-sided. But the others are biased too, they are on Umno's side. So they are all considered biased.
"So in the end you, you might as well not have (PAC). And we (Barisan Nasional) will last through the next elections," said Dr Mahathir after a buka puasa event with Perkasa in Kampung Baru, Kuala Lumpur.
Dr Mahathir also added that the public could not trust 1MDB's auditors, which had given the troubled company a clean bill of health.
"Audits cannot detect all wrongdoings. Auditors just read the accounts. The person doing the accounts can lie if they want to.
"They can do all sorts of lies, so the audit would not be able to detect it."
Earlier today, Berita Harian reported Umno lawyer Tan Sri Muhammad Shafee Abdullah suggesting that Pua quit PAC to ensure the current probe into 1MDB can be conducted in a fair and transparent manner.
Pua has been a strong critic of 1MDB, and has raised questions in Parliament and through press statements on the firm's dealings.
The Bahasa Malaysia daily quoted Shafee saying that Pua was more suited to be a witness in PAC's inquiry instead.
Shafee, also said it was important to accord justice to 1MDB without any prejudice from any quarters in relation to the ongoing PAC investigation.
"I've noticed Pua, as a PAC member, has issued a lot of statements which can affect investigations into the company.
"As such, I propose that he withdraw himself from PAC to return the public's confidence that the inquiry can be conducted fairly and transparently," Shafee was reported saying.
"PAC members including Pua should be like judges in this case, and not by making accusations and making public statements. It is better they be witnesses if they want to issue such statements," he was further quoted as saying.
But PAC chairman Datuk Nur Jazlan ticked Shafee off and told him not to poke his nose into PAC's business.
Coming to Pua's defence, Nur Jazlan said the DAP's Petaling Jaya Utara federal lawmaker had never used PAC's information on troubled 1MDB in his statements.
Instead, Pua had shone the spotlight on important matters related to the debt-laden state investment vehicle, said Nur Jazlan. – The Malaysian Insider