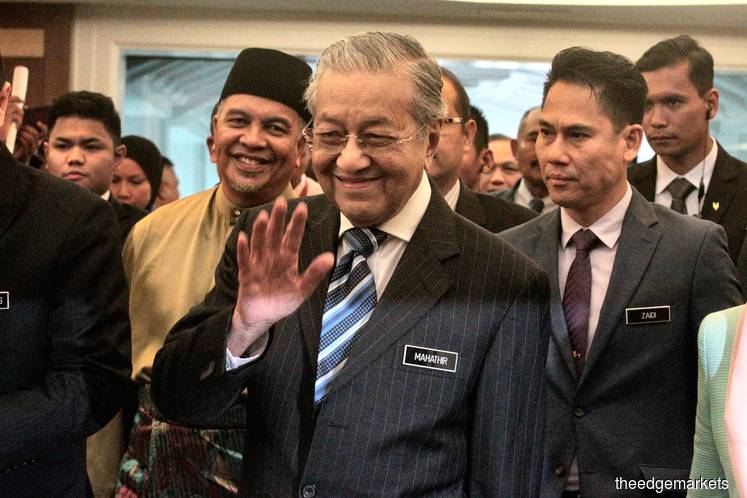 KUALA LUMPUR (Nov 2): Prime Minister Tun Dr Mahathir Mohamad said the bulk of the RM7.4 billion or 200 billion yen proceeds to be raised through the issuance of 10-year Samurai bonds are meant to retire the government's existing costly loan.
At a press conference after Finance Minister Lim Guan Eng presented the Budget 2019 in Parliament today, Dr Mahathir told pressmen that this is the first tranche of funds to be raised from Japan by the Malaysian government, and that the country will source for more capital from Japan in the future at lower funding costs.
"Most of the money will be used to retire some of the costly loans. This is the first tranche, we can borrow more, there will be other loans coming from Japan that carries very low interest rate," he said at Parliament lobby.
When tabling the new budget — the first under the new Pakatan Harapan government — Lim revealed that the Japanese government has offered to guarantee up to 200 billion yen for the issuance of 10-year Samurai bonds via the Japan Bank of International Cooperation at an indicative coupon rate of 0.65%.
Lim said the yen-denominated bonds will be issued before March 2019.
With this bond arrangement, Dr Mahathir said the Malaysian government will be able to see "considerable reduction" in funding costs for some of its existing loans.
"The previous government borrowed money at the rate of 6%, but at that rate we only get 90% of the proceeds raised, so the [effective] rate has gone up to about 7%. Now, between 7% and 0.65%, there is considerable reduction," he said.