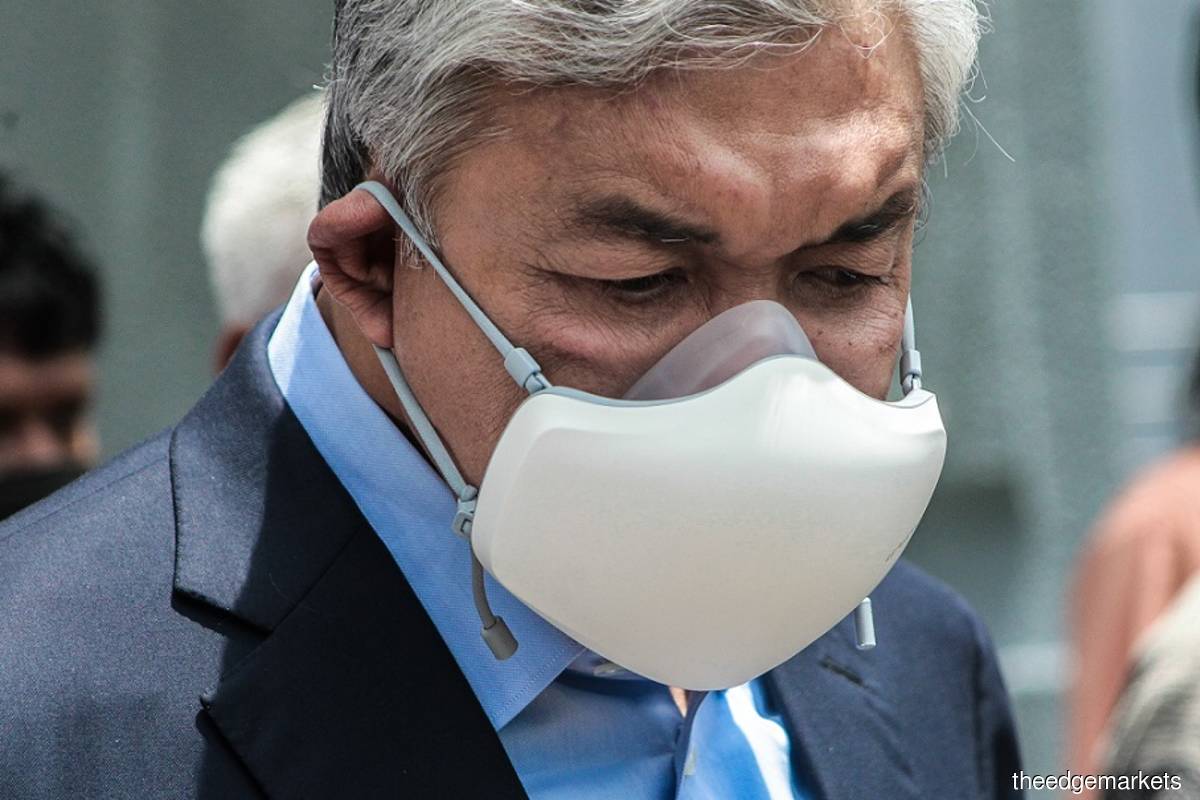 KUALA LUMPUR (Oct 18): UMNO president Datuk Seri Dr Ahmad Zahid Hamidi had known at all material time of the status of Yayasan Akalbudi's funds which he used for his own benefit, the High Court was told on Monday.
Deputy Public Prosecutor Datuk Raja Rozela Raja Toran submitted that based on the witness testimonies presented throughout Zahid's graft trial, he had actual knowledge of the transactions involving the charity fund and the misuse of the funds since 2014.
Citing the testimony of Zahid's former executive secretary Mejar Mazlina Mazlan @ Ramly, Raja Rosela said Mazlina had testified that in 2016, when word got around that the Malaysian Anti-Corruption Commission (MACC) had been making enquiries about Zahid, he had told her to stop using Yayasan Akalbudi cheques to pay for his credit card bills.
This, Raja Rozela argued, constitutes knowledge and control.
Mazlina's testimony also showed that Zahid was in control and knew about the state of affairs in the foundation, the prosecutor said in her submission at the end of the prosecution's case before Justice Datuk Collin Lawrence Sequerah.
"According to Major Mazlina, Zahid would conduct 'spot checks' on Akalbudi's bank statements and chequebooks once or twice a year," Raja Rozela said.
The prosecutor also cited the testimony of  Yayasan Akalbudi's trustee Datuk Khairuddin Tarmizi, who is also an Umno leader in Zahid's parliamentary constituency of Bagan Datoh, Khairuddin had admitted openly in court that he signed a statutory declaration (SD) with false information about the payment of Zahid's credit card bills.
The SD stated: "I, without any other intention, was of the view that I could use the monies in the foundation to settle the bills of Datuk Seri, since a major portion of the funds of the foundation was personally contributed by Datuk Seri.
"I have now realised that my view was incorrect and I have requested Datuk Seri to refund the monies (totalling RM805,768) used to settle the bills, which monies Datuk Seri had since paid back to the foundation," it stated.
Khairuddin however testified in the trial that Zahid never paid back the foundation and that the SD was a false statement which he was given to sign.
"When questioned about the SD, the witness admitted that its contents were untrue. His admission was placed on record, in line with Section 132 of the Evidence Act," Raja Rozela submitted on Monday.
"The SD clearly points to the guilty mind of the accused," she said.
Raja Rozela then submitted that in light of the overwhelming evidence, Zahid's assertions that he had no knowledge of the funds are untrue.
"The true position in our case is that at all times, the accused had actual knowledge of the status and transactions involved in relation to Akalbudi's funds," she said.
Mazlina a credible witness, says DPP
Raja Rozela also rejected previous assertions by the defence that Mazlina is not a credible witness due to her "inconsistent representations of facts, her frailty in recollecting and describing events of the past and her demeanour during the cross-examination" and the fact that she was an "incompetent" secretary.
However, Raja Rozela added that regardless of Mazlina's competency, she had carried out Zahid's instructions to issue cheques from Yayasan Akalbudi to pay Zahid's personal bills.
"You may find that she is a careless and an incompetent secretary, but we must not lose sight of the fact that she was carrying out Zahid's instructions. Whether signed cheques or stamped, whether to pay credit cards or road tax, she had prepared the cheques on his instruction," the prosecutor said.
"We aren't here to check her ability to understand or her secretary skills. We are here to check whether she issued the cheque with the permission and knowledge of the accused," Raja Rozela submitted.
Defence counsel Hamidi Mohd Noh had previously said that the court should "take one step further" in determining Mazlina's credibility as a witness and corroborate her evidence.
Raja Rozela hit back on Monday, saying that the court does not need to corroborate Mazlina's evidence, as she is not being tried as an accomplice to Zahid.
"Mazlina's evidence does not need to be corroborated, she isn't an accomplice. The requirement to have independent evidence is for an accomplice," she pointed out.
Zahid, 68, is facing 47 charges — 12 of criminal breach of trust, eight of corruption, and 27 of money laundering — involving tens of millions of ringgit belonging to Yayasan Akalbudi.
The trial continues on Wednesday (Oct 20), with the defence making its submission.