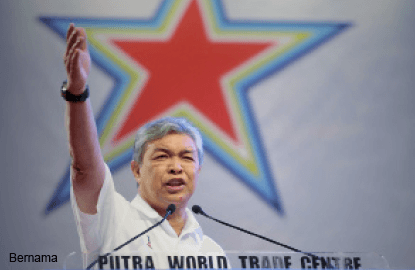 This article first appeared in The Edge Financial Daily, on December 14, 2015.
KUALA LUMPUR: Barisan Nasional (BN) has been "suffering" in the Dewan Rakyat because it lacked the two-thirds majority needed to amend the Federal Constitution to allow an increase in the number of constituencies, Datuk Seri Ahmad Zahid Hamidi said yesterday.
The deputy prime minister, speaking at the opening of BN component party myPPP's annual general assembly, said the party had to work hard to help BN regain a two-thirds majority in the coming general election.
"We are suffering in the Dewan Rakyat because we are unable to amend our constitution. We have only 222 parliamentary seats.
"The growth of the population has moved up 3% ... but we could not move up. We could not increase the number of seats."
He promised a parliamentary seat to myPPP if BN regains a two-thirds victory in the 14th general election (GE14) which is due by 2018.
"Inshallah, after GE14, after we gain our victory with at least two-thirds majority, my promise to Tan Sri is, at least one seat, at least one parliamentary seat.
"But you have to prove it to me. You have to work hard. Don't forget we have to work smart in order to be [successful] in our efforts," Ahmad Zahid said.
In jest, Ahmad Zahid who is also Umno vice-president, added that myPPP should not try to curry favour with the BN leadership to get seats in GE14.
Umno is the leading party in the coalition and currently holds 88 seats in the Dewan Rakyat, the most among BN parties. With 133 seats in total, it falls short of two-thirds in the House.
PPP or the People's Progressive Party in the GE13 contested one parliamentary and four state seats, but lost in all of them.
It contested two parliamentary seats in GE12 in 2008 and also lost both.
Ahmad Zahid said yesterday he was still impressed with the party, which has been rebranded to "myPPP", saying it continued to show a fighting spirit despite not winning in the polls. — The Malaysian Insider