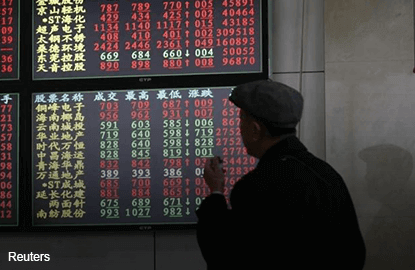 (Sept 2): Southeast Asian stock markets mostly fell on Wednesday, with foreigners exiting the region's risky assets after economic data in China, the United States, and the euro zone pointed to slowing global economic growth.
Malaysia saw a net foreign outflow of US$63.68 million, the Philippines US$41.73 million and Indonesia US$39.19 million.  
Malaysia's main stock index closed 1.2% weaker at a one-week low, led by financial stocks with Malayan Banking Bhd losing 4%.
Fitch Ratings said Malaysia's deteriorating currency position could force the ratings agency to restore its negative outlook, adding to the negative sentiment.
The Jakarta Composite Index fell 0.3% to a one-week low, while the main Manila index ended 0.2% weaker. Singapore closed down 0.2%.
An industry report on Tuesday showed that U.S. factory activity hit a more than two-year low in August, while an official survey showed China's manufacturing sector shrank at its fastest pace in at least three years last month.
 
"Weak manufacturing data out of China confirmed the economy is continuing to see tough times that will reverberate on the rest of the world," Singapore-based Net Research Asia said in a note.
Surveys of manufacturing activity in central Europe painted a mixed picture on Tuesday, with a strong Czech reading and further weakness in Hungary accompanied by a plunge in Poland that economists largely dismissed as a blip.
Bucking the trend, the main Thai index closed 0.7% up. Vietnam markets were closed for a holiday.
       
SOUTHEAST ASIAN STOCK MARKETS
        
 Change on day
 Market             Current     Prev Close    Pct Move
 Singapore          2878.13       2882.77       -0.16
 Kuala Lumpur       1590.19       1609.21       -1.18
 Bangkok            1372.45       1362.39       +0.74
 Jakarta            4401.29       4412.46       -0.25
 Manila             7072.46       7086.86       -0.20
 
 Change on year
 Market             Current       End 2014    Pct Move
 Singapore          2878.13       3365.15      -14.47
 Kuala Lumpur       1590.19       1761.25       -9.71
 Bangkok            1372.45       1497.67       -8.36
 Jakarta            4401.29       5226.95      -15.80
 Manila             7072.46       7230.57       -2.19
 Ho Chi Minh         562.31        545.63       +3.06
($1 = 46.6900 Philippine pesos)
($1 = 4.2160 ringgit)
($1 = 14,110.0000 rupiah)