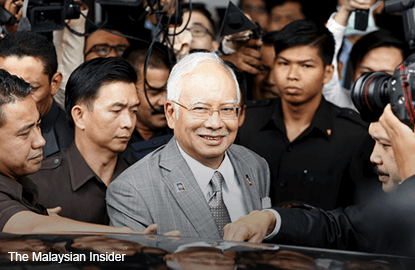 KUALA LUMPUR (Jan 27): Despite clearing Datuk Seri Najib Razak of wrongdoing, the attorney-general did not address several questions about the RM2.6 billion Saudi donation that flowed to the Malaysian prime minister's account, said The Wall Street Journal (WSJ).
WSJ, in an analytical piece on yesterday's decision by the country's top prosecutor, said Tan Sri Mohamed Apandi Ali failed to answer several questions raised by the opposition in his four-page statement.
"The attorney general's four-page statement didn't address several questions Malaysian opposition figures have sought answers to, including: Who specifically donated the money? Why was it donated? Why it took more than six months for the government to say where the money came from? And what happened to the money that wasn't returned?
"The statement also didn't address why the money flowed to Mr. Najib's account through an anonymous British Virgin Islands-company and a Swiss private bank wholly owned by an Abu Dhabi sovereign-wealth fund that is deeply intertwined with 1MDB."
After close to six months of investigations, Apandi told a packed press conference at his office in Putrajaya there was "insufficient evidence" to implicate the prime minister.
"Based on facts and evidence, no criminal offences have been committed by the PM in relation to three investigation papers.
"I hereby order the MACC (Malaysian Anti-Corruption Commission) to close the investigation papers," Apandi said.
The three papers are one on the RM2.6 billion donation and two on SRC International which had taken a RM4 billion loan from the Retirement Fund Inc or KWAP.
Apandi also cleared Najib of any wrongdoing in relation to Finance-Ministry owned SRC International.
He added that Najib returned US$620 million (RM2.03 billion) to the Saudi royal family in August 2013, because the money was not utilised.
MACC last year opened investigations following reports in WSJ and Sarawak Report in July last year alleging that of the RM2.6 billion donation, RM42 million had originated from SRC International, a subsidiary of Najib's brainchild, 1Malaysia Development Bhd (1MDB).
This was according to documents on the money trail provided by Malaysian investigators, WSJ and Sarawak Report said.
Prime Minister Najib yesterday welcomed the decision and said it was "an unnecessary distraction for the country".
"The findings followed a thorough investigation by the relevant institutions, and he has confirmed what I have maintained all along: that no crime was committed," the prime minister said in a four-paragraph statement issued by his office in Putrajaya.