This article first appeared in Capital, The Edge Malaysia Weekly, on September 7, 2020 - September 13, 2020.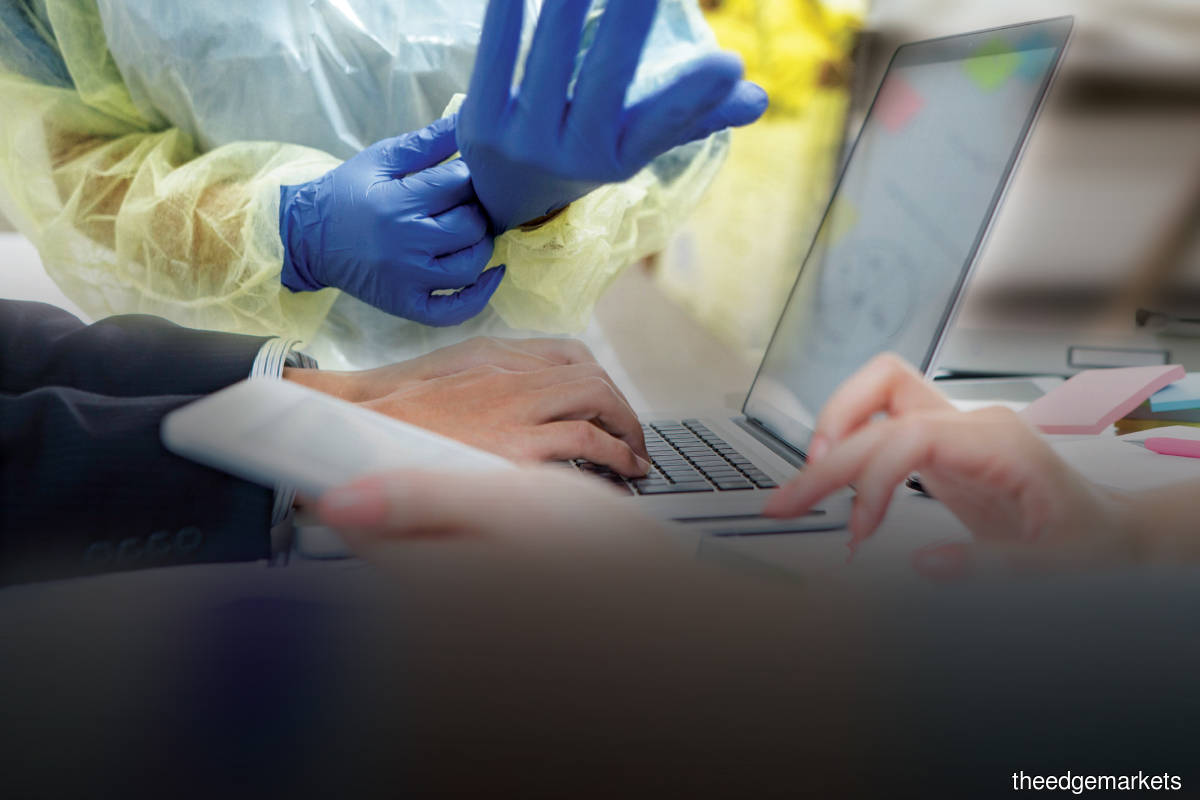 THE way stocks have been trading lately might remind many market watchers of the phrase "irrational exuberance".
For the uninitiated, the term was popularised by US Federal Reserve chairman Alan Greenspan in his 1996 speech, in which he addressed the growing dotcom bubble in the US stock market and described the phenomenon where investors' optimism had driven asset prices beyond their fundamentals.
With the advent of the internet, web-based businesses with a dotcom attached to their name became all the rage and investors were happy to throw money into these stocks even though no profit had been reported by any of them. The speculation drove the Nasdaq Composite index 400% higher between 1995 and its peak in March 2000.
Then the bubble burst and gains accumulated during the period were promptly wiped out. From a lofty 5,048.62 points on March 10, 2000, the Nasdaq fell to 2,470 on Dec 29 the same year.
In Malaysia, the local benchmark index had actually hit its peak earlier on Feb 18, 2000, when it touched 1,013.27 points. From that point, the index trended downwards and then continued its slide when the dotcom bubble finally burst in March 2000.
The crash reverberated globally. However, veteran fund managers recall that the impact on Malaysia's stock market was less dramatic than that seen in the US.
While the effect was less severe, with the benchmark Kuala Lumpur Composite Index declining a total of 28.3% to 679.64 points by end-2000 from March 10, the burst of the dotcom bubble inevitably left many retail investors burnt, particularly those who had not exited in time.
Twenty years on, elements of speculation are evident on Bursa Malaysia as shares of companies that announced ventures into healthcare-related businesses ran on just the signing of a memorandum of understanding. Are there similarities between the dotcom boom of the late 1990s in the US and the rally in the local bourse now, or are they different?
A big difference between the two rallies is that, during the dotcom boom, investors were betting on concepts of companies that had no proven profits to back them.
"The dotcom companies were only selling a concept and were hoping that their service or product would gain enough traction to become a needed service or product. Hence, the dotcom rally was not supported by actual earnings but by great promises," says TA Securities chief investment officer Choo Swee Kee.
Phillip Capital Management Sdn Bhd chief investment officer Ang Kok Heng concurs, adding that, at least, when it comes to healthcare counters such as glove makers, the rally is being driven by actual demand and there is visibility in terms of the companies' profits.
Choo says glove makers are seeing tremendous demand for their products as they are seen as necessities during this pandemic. "Customers are queuing up to buy gloves and are willing to pay higher prices to secure their orders. The rise in glove makers' share prices is supported and matched by a corresponding rise in earnings," he explains.
What is similar, though, fund managers agree, is the exuberance seen among retail investors today and during the dotcom boom.
"Investors seem to be extremely optimistic that the demand for the companies' products will continue to grow or will grow exponentially," notes Choo.
Dotcom exhilaration
During the dotcom boom, local names that saw their share price run included electrical appliance manufacturer Pensonic Holdings Bhd. After it was reported at the start of 2000 that the company was looking into a "possible joint venture" with one of the seven licensed high-speed internet service providers in Malaysia, the counter ran wild. Between Jan 31 and Feb 11 that year, the stock surged 61.64%, from 59.1 sen to 95.6 sen.
But the joint venture never materialised and Pensonic Holdings' rally did not last. By end-2000, the stock had fallen to 41.6 sen.
Today, Pensonic Holdings remains an electrical appliance maker, but with an online presence and a mobile app. As at last Thursday, it had a market capitalisation of RM55.1 million.
Then there is cable manufacturer Leader Universal Holdings Bhd, which announced on Feb 1, 2000, that it was exploring "the encouraging potential internet-related business and IT component manufacturing options".
Its share price shot up 61.2 sen to 91.5 sen within two trading days and continued rising, until it peaked at RM1.09 on Feb 24. Thereafter, the counter began sliding, ending the year at 20.5 sen.
Leader did not venture into any internet-related business but continued with in its telecommunications cable business. In the years that followed, the company eventually focused more on the power sector and ventured into the power plant business because margins in the cable business were razor thin.
In 2012, Leader was taken private by Datuk Sean H'ng Chun Hsiang, its managing director and CEO, at an offer price of RM1.10 per share — a 31% premium over the market price of 84 sen. It is also worth noting that the company was founded by Sean's father, Tan Sri H'ng Bok San.
The company underwent a name change and is now known as HNG Capital Sdn Bhd. It has done well for itself in the power generation business and has businesses in metal, hospitality and properties — but definitely no internet-related business.
Another name that may ring a bell is Safeguards Corp Bhd, which bought into e-commerce company ePedas with RM50 million in early February 2000. After the announcement on the acquisition was made on Feb 10, the counter hit two limit ups the following trading day, pushing the share price from RM2.19 to RM5.45.
It is noteworthy that ePedas' unaudited net profit for the six months to Dec 31, 1999, amounted to RM2.82 million on revenue of RM11.8 million. As part of the acquisition agreement, the vendors of ePedas had guaranteed a profit before tax of RM10 million for 2001 and 2002.
It met the RM10 million mark in 2001, but fell short in 2002 by RM6.8 million. In the years that followed, ePedas fell into a loss and remained a loss-making subsidiary of Safeguards Corp until the latter was taken private in 2007.
Healthcare stocks mania
This year, the healthcare stock theme has reigned supreme owing to the Covid-19 pandemic. Glove makers were the first to see the rush of investors for their shares, resulting in a five-month rally from April. That is now beginning to wane though, on news of vaccines being produced against the virus.
Among the larger players in the glove space, Supermax Corp Bhd saw the biggest gains with its share price rising 993%, from RM2 on April 21 to RM21.86 on Sept 1.
It was followed by Top Glove Corp Bhd, which gained 310% over the same period, and Kossan Rubber Industries Bhd, which saw a 196.89% increase. On Sept 1, Top Glove closed at RM26.50 while Kossan closed at RM15.80.
With the focus now on vaccines, the shift in interest to pharmaceutical stocks has sent shares of Pharmaniaga Bhd and Duopharma Biotech Bhd to record highs. Between July 2 and Sept 1, Pharmaniaga and Duopharma gained 153.6% and 128.44% to RM5.63 and RM3.65 respectively.
While these companies have a track record of profitability and are established players in the field, there are many that have only recently jumped on the healthcare bandwagon.
In the rubber glove space, there is AT Systematization Bhd, which purchased Pearl Glove (M) Sdn Bhd for RM22 million in cash in June. The company is looking to raise up to RM63.83 million via a private placement for working capital and capital expenditure for the glove business.
AT Systematization's share price increased 280% to 9.55 sen on Sept 1, from 2.55 sen on April 10.
Then there is bamboo floor manufacturer Kanger International Bhd, which has signed a heads of agreement with Dubai-based Constellation Holdings Ltd to jointly set up medical examination glove operations in Malaysia.
Kanger's share price surged 150% to 22.5 sen on Sept 1, from 9 sen on July 16.
In terms of ventures into the vaccine-related business, Bintai Kinden Corp Bhd — a mechanical and electrical engineering works specialist — saw its share price soar over 600% to 68.5 sen on Sept 1 from August, on news that it was venturing into the development of a Covid-19 vaccine through a partnership with a US pharmaceutical company.
Meanwhile, Ho Wah Genting Bhd (HWG) has issued frequent updates since it first announced in March its venture into the provision of essential medical and healthcare products, which include diagnostic kits, as well as clinical trials for vaccines.
In an Aug 14 announcement, HWG says that its unit, HWGB Biotech Sdn Bhd, has signed a joint-venture agreement with US-based E-MO Biology Inc to undertake Phase 4 clinical trials for a new poliomyelitis virus vaccine for Covid-19.
From being a penny stock trading at 8 sen on March 18, HWG has seen its share price rise astronomically, closing at RM1.06 on Sept 1.
Fuelled by low interest rates and excess cash from loan moratoriums, retail investors have invigorated the stock market, but is the market euphoria sustainable?
TA Securities' Choo says that any big rally — be it because of hype or a surge in demand — must ultimately be justified by sustainable earnings.
Only time will tell if earnings from the new ventures will materialise, but for now, investors seem to be throwing caution to the wind.
Phillip Capital Management's Ang opines that many investors are aware of the risks involved in this rally. "I think many understand that it is short term. They know it, and perhaps the game plan is to make money and get out while they can."