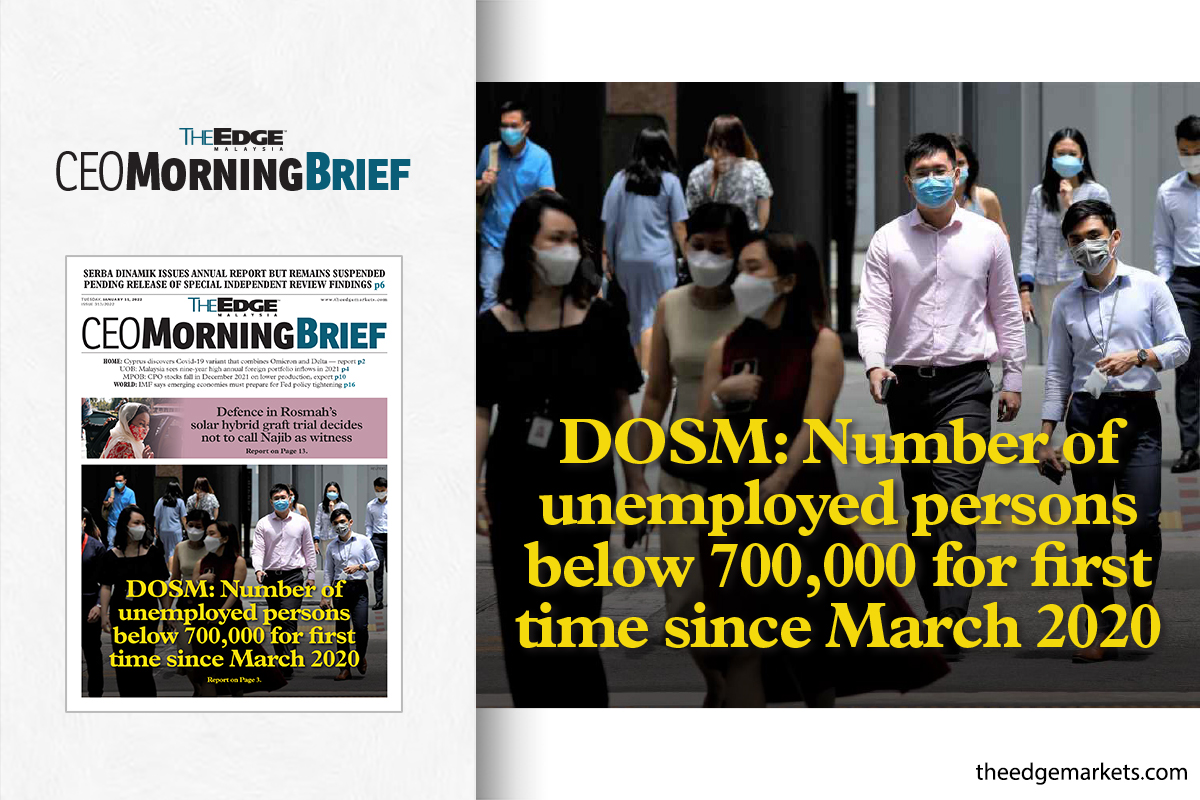 KUALA LUMPUR (Jan 10): The number of unemployed persons was reduced to below 700,000 in November 2021, the first time since March 2020, according to the Department of Statistics Malaysia (DOSM). 
This was a decrease of 1.5% month-on-month (m-o-m) to 694,400 persons, compared with 705,000 in October 2021, said chief statistician Datuk Seri Dr Mohd Uzir Mahidin. 
"The unemployment rate in November 2021 was 4.3%, unchanged from the previous month, as more in the inactivity group were searching for jobs which then reflected a decrease of 0.3% in [the] outside labour force to 7.34 million persons during the month (October 2021: 7.36 million persons).
"Therefore, the labour force participation rate in November 2021 elevated further to 68.9% (October 2021: 68.8%), with the number in the labour force higher by 0.3% at 16.3 million persons (October 2021: 16.26 million persons)," said Mohd Uzir. 
According to him, the labour force situation in November 2021 held steady with continuing employment growth reducing the number of unemployed persons as the revival of more economic and social activities stimulated a positive vibe for the labour market. 
Mohd Uzir said employed persons in November continued to rise for four consecutive months with an increase of 0.4% m-o-m recording 15.61 million persons, compared with 15.55 million persons in October. 
"The employment-to-population ratio, which indicates the ability of an economy to create employment, went up by 0.2 percentage point to record 66% in November 2021 (October 2021: 65.8%). 
Mohd Uzir noted that November also saw another five states moving into Phase 4 of the National Recovery Plan except for Kelantan and Sarawak, which were still in Phase 3. 
"Additionally, the overall [full] vaccination rate remained in an increase, while the number of daily Covid-19 cases continued to decline. These encouraging circumstances resulted in more travelling activities domestic and abroad during the month, hence influencing the labour market in November 2021," he said. 
By economic sector, Mohd Uzir said the upward trend of employment in the services sector persisted mainly in wholesale and retail trade, food and beverage services, as well as transport and storage activities. 
A similar trend was observed in the manufacturing and construction sectors, while employment in the agriculture and mining and quarrying sectors continued to decrease. 
"It was witnessed that labour demand increased in line with the resumption of economic activities. This included the tourism-related sectors, such as accommodation and arts, entertainment and recreational activities. Besides, a promising economic outlook may prompt people to search for a better job," said Mohd Uzir. 
In terms of status of employment, the employees' category accounted for 76.9% of total employed persons.
This category continued to climb by 0.2%, recording 12 million persons from 11.97 million persons in October 2021, said the DOSM. 
Similarly, the own-account worker category, which consists mostly of daily income earners working as small business operators, such as retailers, hawkers, sellers in markets and stalls as well as smallholders, continued to trend up in November by 0.8% to record 2.63 million persons (October 2021: 2.61 million persons).
The positive growth in both categories was sustained, reflecting the continuity of business activities during the month, the DOSM added. 
Elaborating further on the unemployment situation in November 2021, Mohd Uzir said: "In terms of the unemployment category, 83.8% of unemployed persons were actively unemployed or those who were available for work and actively seeking jobs. 
"This category declined by 1.3% to register 581,800 persons (October 2021: 589,500 persons). By the duration of unemployment, 55.7% were unemployed for less than three months, while 7.8% were those in long-term unemployment of more than a year. For those who believed that there were no jobs available or were inactively unemployed, the number dropped 2.5% to 112,600 persons (October 2021: 115,400 persons). 
"In the meantime, the youth unemployment rate for age 15 to 24 years reduced by 0.2 percentage point to record 13.7% after registering 13.9% since August 2021. However, the unemployment rate of youth aged 15 to 30 years recorded a marginal increase of 0.1 percentage point m-o-m to register 8.2% (October: 8.1%)." added Mohd Uzir. 
To receive CEO Morning Brief please click here.