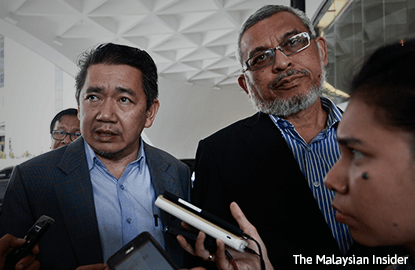 KUALA LUMPUR (Feb 3): Parti Amanah Negara (Amanah), which has only one representative in Kedah, is ready to "open its doors" for talks with Datuk Seri Mukhriz Mahathir, says Amanah deputy president Salahuddin Ayub.
The party, he said, was following the frequent updates on Kedah politics since Mukhriz was replaced with Datuk Seri Ahmad Bashah Md Hanipah as the menteri besar after a revolt two weeks ago.
"We will see the developments first. The doors for discussions are always open if he (Mukhriz) wants to meet," Salahuddin told reporters after meeting with Minister in the Prime Minister's Department Datuk Seri Jamil Khir Baharom at the Tabung Haji building today.
Pangkalan Kundur assemblyman Datuk Phahrolrazi Mohd Zawawi is the sole Amanah representative in Kedah.
Salahuddin said he viewed the change of the Kedah menteri besar as a way for Prime Minister Datuk Seri Najib Razak to send a signal to Tun Dr Mahathir Mohamad that he was still influential.
The new Menteri besar, Datuk Seri Ahmad Bashah Md Hanipah is expected to be sworn in tomorrow.