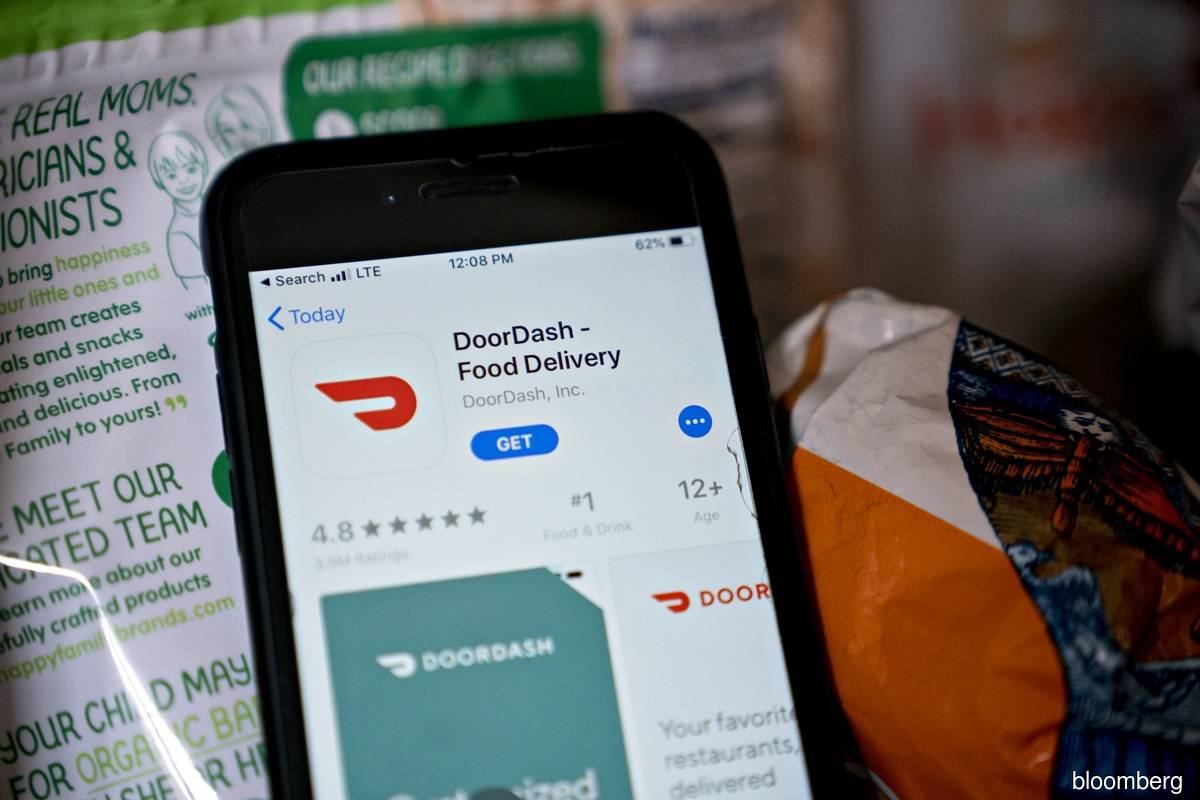 NEW YORK (Aug 5): DoorDash Inc soared after the company reported revenue that beat analysts' expectations, boosted by a record number of orders in the US, showing customers' appetite for takeout is not waning despite rising inflation.
Shares rose as much as 13% in pre-market trading.
Revenue rose 30% in the second quarter to US$1.6 billion, the San Francisco-based company said on Thursday in a statement. That was better than analysts' average projection of US$1.52 billion, according to data compiled by Bloomberg. 
"Our results speak to the strength in our business and resilience in our platform," vice president Ravi Inukonda said in an interview.
Customers placed 426 million orders in the three months ending June 30, jumping 23% from a year earlier. The value of those orders grew 25% to US$13.1 billion, beating Wall Street's expectations for US$12.7 billion. The results are the first to combine financials from Helsinki-based Wolt since its acquisition by DoorDash in November. The all-stock deal, which was worth about US$8 billion at the time of its announcement, closed in June.
The positive results defied concerns that rising inflation would discourage consumers from discretionary services like food delivery. Inukonda said DoorDash was not seeing an impact on consumer spending, citing "healthy" order frequency from a record number of users.
Helped by pandemic lockdowns and an early foothold in the suburbs, DoorDash quickly established itself as the dominant meal-delivery service in the US at the height of Covid-19. Since then, its market share has continued to grow, now comprising 59% of US food delivery sales as of May, according to Bloomberg Second Measure. DoorDash has parlayed that success to expand into other services like convenience-store items, groceries, and alcohol.
DoorDash reported adjusted earnings before interest, tax, depreciation, and amortisation (EBITDA) of US$103 million, exceeding analyst expectations of US$55.1 million. While figures for each category are not disclosed, DoorDash said it expects convenience deliveries to become profitable by the end of the year.
Competition to deliver everything from food to prescriptions and pet supplies has intensified with DoorDash and rivals like Uber Technologies Inc, Instacart Inc, and Grubhub launching subscription services as a way to keep customers ordering from their apps longer and in larger quantities. DoorDash's DashPass subscriptions reached an all-time high with more than 10 million members, representing nearly half of its roughly 25 million monthly active users.
Unlike its gig economy peers including Uber, Lyft Inc, and Instacart, DoorDash has said it is not considering lay-offs and has no plans to slow hiring. That approach has proved costly. DoorDash reported a net loss of US$263 million, or 72 cents per share, more than double its loss from a year ago. DoorDash said the increase is attributed to a stock-based compensation for retention as well as from absorbing employees from Wolt.
The company projected gross order value of US$13 billion to US$13.5 billion in the current quarter and adjusted EBITDA of US$25 million to US$75 million.
DoorDash also forecast full-year adjusted EBITDA of US$200 million to US$500 million. The company said its outlook "anticipates a softer consumer spending environment in the second half of 2022 than what we experienced in the first half".