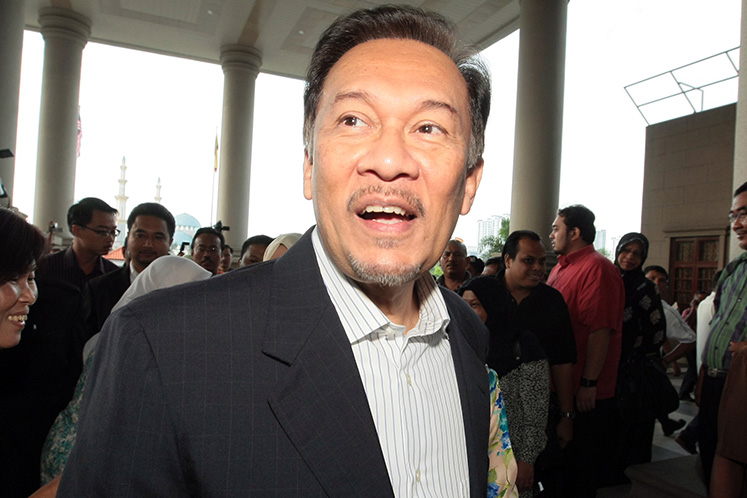 SEREMBAN (March 2): Malays should not fear being represented by non-Malay elected representatives so long as they are good, clean and not corrupt, said president of PKR Datuk Seri Anwar Ibrahim.
Defending the selection by PH of an Indian candidate, Dr S Streram, for the Rantau State by-election, he said the question of risk to the survival of the Malays in the by-election did not arise if support is given to PH.
"Malays will survive if we have clean, incorruptible, good leaders, not just the Malays will survive, the Chinese, Indians, Kadazans too will survive.
"But if we choose corrupt and cruel Malay leaders, the Indians, Chinese and Malays will not survive," he said at rally in conjunction with the by-election at Taman Angsamas, here, tonight.
Also present as Parti Amanah Negara (Amanah) president and Minister of Defence, Mohamad Sabu.
Anwar said for a multi-racial nation, it is fair for all communities to be treated equally.
"It must be remembered that a Chinese candidate needs the support of the Indians and Malays, thus the Indian candidate in this area needs the support of the Chinese and Malays.
"What is there to fear, the Prime Minister is a Malay, the  Menteri Besar is a Malay. Why now raise the risk of Malay survival?" he said.
Meanwhile, Mohamad, in his speech, also criticised the propaganda of irresponsible quarters who deliberately played up the issue of Malay survival and accusing the Malay PH component parties of being DAP stooges.
Later, at another rally in Taman Sri Ramai, Rantau, Anwar said he would ensure that there would be spillover effects for Rantau from the development in his Parliamentary constituency — Port Dickson. The Rantau constituency borders Port Dickson.
The Rantau by-election  is seeing a four-cornered fight between Pakatan Harapan candidate Dr S Streram, former Negeri Sembilan menteri besar Datuk Seri Mohamad Hasan of Barisan Nasional (BN) and two independent candidates, R Malarvizhi and Mohd Nor Yassin.
Polling is on April 13.