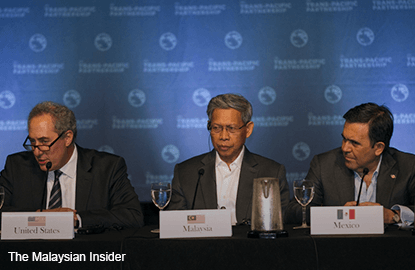 (Oct 9): To reject outright the newly-concluded Trans Pacific Partnership Agreement (TPPA) without a sensible alternative trade agreement among countries in the Asia Pacific would be irresponsible, a former Umno minister said.
Writing on his blog, Datuk Zaid Ibrahim urged cool heads to prevail when the pact is debated in Parliament later this year, and reminded that Malaysia was first and foremost a trading nation that depended on free trade.
He added, however, that TPPA was not without its problems, given fears such as the  US corporate sector's unfair power to intimidate and dictate commercial and regulatory arrangements in Malaysia, the declining availability of generic drugs,  the effective loss of sovereignty and concerns about how the environment will be affected by the pact.
"I believe no single country, even one as influential as the US, should have the power to dictate world trade agreements that are manifestly unfair to other countries.
"However, the correct course of action is not to slam the door shut on the TPPA and other trade agreements, but for us to negotiate well and to make ourselves become even more competitive, we need to invest more in the enhancement of our economic activities, transform our education system and emphasise the importance of science and technology," Zaid wrote.
He added it was important to ensure that the country's own major corporations do not remain mere "jaguh kampung" (village champions) but are able to compete well when securing large contracts overseas.
He said to achieve this, Malaysia must be serious about its human capital development.
Zaid said there was no doubt that the Ministry of International Trade and Industry was negotiating well on behalf of the country.
He said that there were many officials who had been trained by former minister Tan Sri Rafidah Aziz, adding that current minister Datuk Seri Mustapa Mohamed also had a very clear head and understood the issues well.
"There is no reason why Mustapa and his officials have not put their best case forward to protect our interests, but what we need now is for cool heads to prevail when we discuss the matter in Parliament later this year," he said.
Zaid's view echoes that of Rafidah, who said yesterday that the professionals negotiating the pact were doing it for the good of the country.
The former international trade minister said the pact was good for the country if it was not politicised.
TPPA was signed recently between 12 countries, but the government has said that Malaysia would only ratify the pact after debating it in Parliament and after public consultation.
The deal has attracted criticism from the opposition, who claimed it would cause a spike in generic medicine prices, and add to the burden of rising cost of living. – The Malaysian Insider