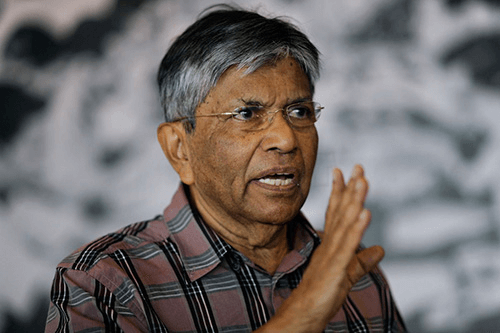 (May 27): Datuk Seri Najib Razak's move to involve the Pahang sultan in political disputes is unhealthy and could lead to diminishing respect for the royalty, former information minister Tan Sri Zainuddin Maidin said today.
In a blog posting, he said the royal institution was revered by the people but Najib's declaration that he had the support of the Pahang sultan amid calls for him to step down from his position would change that.
"If the person he supports and wins, it is alright. But what if the person loses?" he wrote.
"Don't Umno leaders and members see the involvement of the sultan in political disputes as an unhealthy game that will cause democratic power that lies in the hands of the people to dwindle and build up a feudal culture in Umno?"
Najib on Saturday said he had the support of the Pahang sultan to continue as prime minister despite calls for him to step down.
He said Sultan Ahmad Shah's support as well as that of the people of his home state, Pahang, had strengthened his resolve to continue leading the country, despite attempts to "poison" his roots on his home ground.
"Some people are trying to threaten us. Some want to poison our roots, so we must make sure our tree continues to stand strong.
"Alhamdulillah, everyone supports us. Sultan Ahmad has also stated his stand from the beginning. He said Pahang supports (me), from the sultan to the ordinary citizen," Najib said in Kuantan.
The embattled prime minister also told the crowd that he was impressed with the turnout at his recent public appearances, which indicated that he had the support of the people to continue leading the country.
Zainuddin, a strong critic of Najib, said he did not understand why the prime minister felt the need to reveal that he had the support of the Sultan despite declaring that he had the support of "millions of the public".
He also questioned if the prime minister valued the support of one sultan more than that of the thousands of people who have expressed solidarity with him.
"He himself has declared, wherever he went, that thousands have shown support for him... in Tawau, more than 40,000; in Johor, more than 15,000; in Gopeng, more than 25,000; in Kuantan, more than 12,000 and that big crowds await him everywhere," he said.
"If he was so confident that the support from the people was strong and good, why does he have to obtain support from the palace?"
He said that Najib's actions in involving the sultan in a political conflict set a precedent, adding that in the future, menteris besar and Umno leaders might use the name of royalty to wrestle positions in the top ranks of the party. – The Malaysian Insider