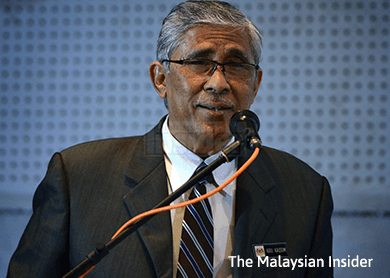 (Oct 1): Malaysian Anti-Corruption Commission (MACC) chief Tan Sri Abu Kassim Mohamed today warned those meddling in the anti-graft body's investigations that there is no escaping justice.
He said wrongdoers, whether politicians, corporate figures or ordinary people, would be judged not just by the courts but by the public.
"To those who want to stop any investigations and cases on trial, the world today is different. You cannot run from the justice system," said Abu Kassim in his speech, which was read out by MACC deputy chief commissioner (operations) Datuk Seri Mohd Shukri Abdull, at the launch of the Kevin Morais Moot Court.
"Do not try to stop, disturb and curb the investigation and prosecution. You can win your battle to hide evidence from the eyes of law enforcement, but you can't hide from the eyes of the public."
He said there was a limit to how long a person could escape detection, as there was no place in the world where one could hide forever from the authorities.
"Remember, investigations will not stop just because there are some quarters who try to hide evidence or whisk witnesses away.
"If you are proven guilty, the court will be your place of judgement. The people will judge and punish you.
"No matter whether you are an ordinary person, a businessman, corporate figure or political leader."
Abu Kassim also warned "stooges" and those complicit in hindering investigations that their actions would haunt them for the rest of their lives.
He said that if their deeds were exposed, society would turn against them and they would soon realise the rewards they gained could not make up for the dignity they had lost.
Six men were charged with murder while an army doctor was charged with abetment over the murder of Anthony Kevin Morais, a deputy public prosecutor, earlier this month.
Morais's body was found in an oil drum filled with cement in Subang Jaya on September 16.
The moot court at the Malaysian Anti-Corruption Academy was renamed the Kevin Morais Moot Court today in honour of the DPP who served MACC for 10 years.
His three siblings – Charles Suresh, David Ramesh and Datuk Richard Dilaan – were also present at the ceremony today.
His death came on the heels of the abrupt dissolution of the special task force investigating Prime Minister Datuk Seri Najib Razak's brainchild, 1Malaysia Development Berhad (1MDB), and the RM2.6 billion donation channelled into his personal accounts.
The task force comprised MACC, the Attorney-General's Chambers (AGC), police and Bank Negara Malaysia.
In August, police raided the MACC office in Putrajaya and questioned several officers amid their investigation into the RM2.6 billion "donation".
The police also detained AGC officer Jessica Gurmeet Kaur and former anti-graft agency adviser Tan Sri Rashpal Singh for questioning.
This was followed by a raid at the office of MACC deputy public prosecutor Ahmad Sazilee Abdul Khairy, where police also seized several documents.
The disruption of the probe caught the attention of international anti-graft activists, who criticised the prime minister's actions and his silence over the donation. – The Malaysian Insider