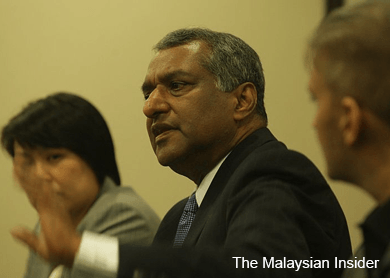 (Dec 15): Putrajaya must reveal whether the goods and services tax (GST) will be imposed on private healthcare, say hospital administrators, adding the government should not attempt to water down an impending increase in the sector.
Association of Private Hospitals Malaysia (APHM) president Datuk? Dr Jacob Thomas said while they were seeking an exemption to private healthcare, the government should tell the truth to the public if the tax would be imposed.
"We are trying to tell the government to exempt this but if they are serious, don't go around saying there will not be an increase in private healthcare costs," he told a press conference after a briefing with private hospitals on the GST at Sunway Medical Centre in Petaling Jaya today.
"That is not true. Tell them (the public) the truth."
Instead, Dr Thomas ?warned that there will be at least a 5% increase when the GST is implemented come April 1 next year.
His statement comes after several key government officials were quoted recently as saying that medical costs would not increase with GST.
?On October 23, Deputy Finance Minister Datuk Ahmad Maslan was quoted as saying that there was no reason for private hospitals and clinics to raise prices after the GST is implemented.
Health Minister Datuk Seri Dr S .Subramaniam had also said last month? that healthcare costs would not be impacted with the GST as it was exempted.
However, earlier this month, the minister admitted that private healthcare costs could increase by between 1% and 2% when the GST was implemented because of "technical issues".
"For example, the services per se are GST exempt, but the products used in the services are not," he was quoted as saying.
However, Dr Thomas said the government had lost the meaning of the word "exempt", saying he disagreed with the statements given by the various ministers.
"Private doctors' fees sometimes take up to 70% of the total hospital bill. So how will it only increase by 1% and 2%?
"?And since GST is a consumption tax, the costs will be borne by the public, who use private healthcare services and not the hospitals," he added.
?Dr Thomas said despite many briefing sessions APHM has had with the Customs Department, including the director-general and health minister, there seemed to be no solution in making the services of private doctors zero-rated.
"What is most alarming is that the relationship of doctors and hospitals has been interpreted by Customs as 'outsource services' just like housekeeping, laundry and others.
"But this is not reflective of the legal relationship? between healthcare professionals and the private hospitals. They are instead known as 'independent contractors'," he said, adding that 99% of private doctors fell under this category.
This means that these doctors are not employed by the hospital but work as independent consultants at several different hospitals.
?"Healthcare services are not outsourced by private hospitals to the healthcare professionals, instead services are provided directly to the patients by both the hospital and doctors."
?He said with GST, public hospitals, which are already overcrowded, could see an influx of patients.
"The government is out of scope here.? We can see a big shift of patients from private to public, clogging them up further.
"?Private hospitals have 30% of the bed share in the country. So ?this is going be an additional burden on public hospitals."
He said APHM has exhausted all its avenues in informing the authorities on the issues as well as the extra administrative costs to be borne by patients.
"?We have given all info needed to the Health Ministry and Customs and we are hoping they will not burden the public.
"?Not only the rich people come to private hospitals. For some reason or the other, those who are really poor also come to while some are also referred by government hospitals."