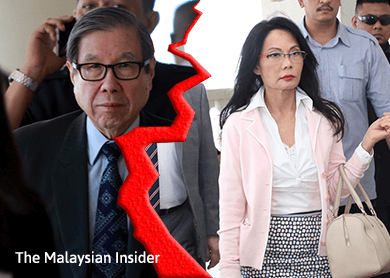 (June 19): The Court of Appeal today ruled that a wife has no capacity to have her own domicile of choice as a married woman, in the divorce battle involving tycoon Tan Sri Khoo Kay Peng and his former beauty queen wife Puan Sri Pauline Chai.
The court, in stating that the common law rule on domicile was still applicable in Malaysia, also dismissed Chai's appeal on the jurisdiction issue – whether to have a Malaysian or English court to hear the divorce petition.
The three-member panel chaired by Balia Yusof Wahi said the common law rule on domicile applied to Chai and thus it was not open for her to choose her domicile.
 
Chai's lawyer Andrew Yong, in response to the decision, told The Malaysian Insider that they would file for leave to appeal the decision to the Federal Court.
Khoo, 75, had maintained that their matrimonial home had always been in Malaysia and that he, his wife and children always returned here despite being overseas most of the time.
Chai's legal team countered this and insisted that a wife could acquire her domicile independently.
This was to determine a preliminary issue of whether a Malaysian court had the jurisdiction to hear Khoo's divorce petition.
In December, the High Court in Kuala Lumpur refused Chai a stay order which allowed Khoo to do away with meeting a conciliatory body in London to save the couple's marriage.
Judge Noraini Abdul Rahman had also stated that Khoo could file his divorce petition in Malaysia which he did within 90 minutes of her ruling.
Noraini held that a Malaysian court could hear the divorce petition since Chai's domicile followed that of her husband, who owns 40% of international brand Laura Ashley.
As a result Chai filed an appeal to the court of appeal to determine the jurisdiction and domicile issues.
Chai is fighting a tooth and nail battle to prevent the Malaysian court from determining the couple's divorce as she stood to get less in matrimonial properties and other benefits if the matter was decided according to the Law Reform (Marriage and Divorce) Act 1976 in Malaysia.
Khoo stands to lose half his fortune amounting to £500 million (RM2.75 billion) in the pending divorce if the matter was decided in Chai's favour in the English courts.
Khoo is the chairman of international investment holding company Malayan United Industries that is primarily engaged in retailing, hotels, food and confectionery, financial services and properties.
Besides a 40% stake in Laura Ashley that has annual sales of £286 million, the 75-year-old multimillionaire is also a director of Corus Hotels Limited in the UK.
Corus Hotel Hyde Park in London is a four-star Victorian hotel.
Chai and Khoo, who married in 1970 and have five grown-up children, bought the estate in 1998.
The property reportedly has two custom-built lakes costing £60,000 each and a menagerie.
Besides winning the Miss Malaysia-International 1969 title, Chai has won other beauty pageants, including Miss Princess Malaysia 1969 and Miss Tourism Penang 1969. – The Malaysian Insider