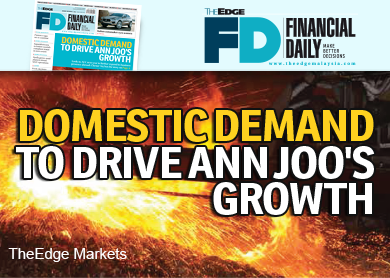 KUALA LUMPUR: Ann Joo Resources Bhd, whose nine-month 2014 results came in above analysts' expectations, sees domestic consumption driving its growth going forward.
"Steel demand has never been as strong since I entered into the steel industry in 2000," group managing director Datuk Lim Hong Thye said in an interview with The Edge Financial Daily.
According to the Malaysian Iron and Steel Industry Federation's outlook report, steel demand in Malaysia broke the 10-million tonne mark for the first time in 2013.
He noted that this is evident after the recent Budget 2015 announcement, which sees next year's spending focusing on infrastructure projects, improving public transport network and creating more affordable housing.
"However, effectiveness in addressing the excessively high level of China steel imports will remain the biggest challenge facing the industry. We hope a series of trade remedies to be taken by both the Malaysian and Chinese governments will address this issue starting this month," he said.
The combination of a competitive environment and the dumping of cheap steel products from China's mills has depressed steel prices and profit margins in recent years. The Ministry of International Trade and Industry (Miti) recently decided to impose a 120-day provisional anti-dumping duties ranging between 3.15% and 29.37% on hot rolled coils (HRC) originating or exported from China, Indonesia and South Korea.
"This is a good sign, but we would appreciate if the authorities could expedite the imposition of anti-dumping duties not only on HRC, but also other affected steel products," said Lim.
Still, the time taken by the Malaysian authorities to act against dumping actions can be attributed to its compliance with the World Trade Organization's (WTO) procedure.
"Under the WTO procedure, a petition needs to be supported by at least 12 months of import data [to prove surging dumping activities] and 12 months of audited account [to prove financial injury]," said Lim.
"Moreover, completing these reports would need at least another two to three months before the submission of petition. By the time Miti accepts the petition, it will take another 30 days to decide whether to investigate or not into the matter.
"Hence, it will take at least 15 months from the occurrence of dumping activities to the launch of a probe into the imposition of anti-dumping duties, and during that period not many industry players would have sufficient cash flow to withstand such adverse situation," he said.
Lim said the local steel industry needs government support, not in terms of production, but to ensure a level playing field and encourage local demand.
"The government should have a more comprehensive policy to address the issues facing the local steel industry, which includes the upstream and downstream players," he said.
Ann Joo currently sources its iron ore — the main raw material to make steel — from local miners to feed its blast furnace, but Lim pointed out that the local iron ore mining industry is fragmented and lacks the necessary criteria to ensure long-term sustainability.
Asked if Ann Joo is looking at venturing upstream into mining iron ore, Lim said the management has been evaluating the potential but "prudence will be the rule of thumb before any action is taken".
"Not only because that it (iron ore mining industry) is not properly developed, but the business is also not something that we are very familiar with compared to steel manufacturing. Therefore, we prefer to be prudent before any action is taken," Lim remarked.
Meanwhile, Ann Joo is banking on the implementation of the Asean Economic Community (AEC) next year to further expand its business presence abroad, particularly in Indonesia.
"We have high hopes of the AEC. We hope that it will facilitate freer flow of finished steel products, otherwise we will have to set up a downstream operation (rolling mill) in Indonesia [to penetrate the market there]," Lim said.
With further trade liberalisation, Lim believes that local long steel producers of billets, steel bars and wire rods will benefit.
"Steel demand in the region is still growing, especially in Indonesia. With a new president and its large population, coupled with the developments that are coming in, we see tremendous growth potential for steel requirements there," he said.
Nevertheless, Ann Joo is aware that the legal and business environment in Indonesia is different from that in Malaysia and is seeking joint ventures with local partners there.
"We need to find a suitable location [for the rolling mill] and partner, especially those involved in manufacturing activities. Trading in steel products is a lot easier because it does not have a sunk cost and one can pull out anytime, but not for manufacturing," said Lim.
For the nine months ended Sept 30, 2014 (9MFY14), Ann Joo's core net profit grew 28% to RM33.2 million on higher sales volume despite depressed steel average selling prices. Operating margins improved from 2.2% to 4.3% due to improved productivity in iron, steel and rolling processes.
In a report dated Nov 27, Kenanga Research said Ann Joo's earnings are poised to return to a growth phase with expected FY14/FY15 growth of 13% to 28%.
"Valuation-wise, we believe that Ann Joo is undervalued as it is currently trading at 0.53 times price-to-book value (PBV), which is close to -1.0 standard deviation on historical PBV which is unjustified considering its earnings improvements," it said, maintaining an "outperform" call on the stock with a target price of RM1.47.
Shares in Ann Joo closed three sen or 2.59% higher at RM1.19 last Friday, giving it a market capitalisation of RM595.72 million. Year-to-date, the stock has gained 16.67%.
This article first appeared in The Edge Financial Daily, on December 1, 2014.