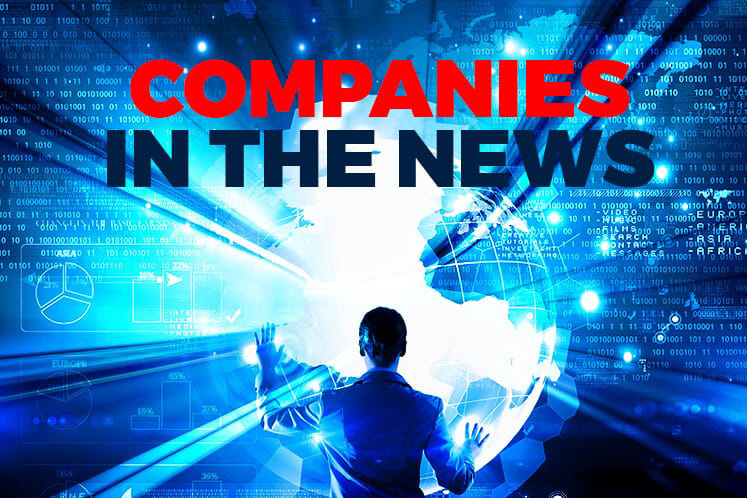 KUALA LUMPUR (March 1): Based on corporate announcements and news flow today, stocks in focus on Monday (March 4) could include Dolphin International Bhd, VS Industry Bhd, OCR Group Bhd, KNM Group Bhd, Yinson Holdings Bhd, Majuperak Holdings Bhd, TMC Life Sciences Bhd and Sentoria Group Bhd.
Dolphin International Bhd, a manufacturer of palm oil milling machinery, has proposed to diversify its business to include construction and property development to further expand its revenue stream and earnings base.
In a filing with Bursa Malaysia, Dolphin said the group, via its wholly-owned subsidiary Dolphin Construction Sdn Bhd, had secured its first construction contract worth RM13.2 million from Syarqiah Holdings Sdn Bhd in June last year.
VS Industry Bhd said it has signed an agreement with US-based Bissell International Trading Co BV, to manufacture home care products under the Bissell brand name, on a box-build basis.
The master supply agreement — signed between Bissell and VS Industry's wholly-owned unit, Guardian Southeast Asia Pte Ltd — is for a three-year period beginning Feb 27, and may be automatically extended in one-year increments thereafter.
Under the agreement, Guardian will manufacture, assemble, package, label, test, and sell the products to Bissell.
OCR Group Bhd said a RM324 million contract to undertake a 1Malaysia Civil Servants Housing (PPA1M) project in Precinct 5, Putrajaya has been cancelled.
OCR said the letter of award (LoA) it received from Damansara Realty (Johor) Sdn Bhd (DRJ), a subsidiary of Damansara Realty Bhd (DBhd), for the appointment of OCR as the turnkey contractor for the PPA1M project, which spans 11.9 acres, has been terminated.
The cancellation was due to the Government's move to unify the development of affordable homes under the Ministry of Housing and Local Government.
KNM Group Bhd said its unit has secured an engineering, procurement and construction contract worth US$24.87 million (approximately RM101.35 million) for a liquefied petroleum gas (LPG) facility in Myanmar.
The group said its wholly-owned unit KNM Process Systems Sdn Bhd received the complete executed lump sum turnkey contract with CECA Gold Company Ltd.
The contract is for the engineering, procurement and construction of a liquefied petroleum gas receiving, tanking, storage and bottling facility in Kyaut Tan Township Thilawa, Myanmar.
Yinson Holdings Bhd is teaming up with Japan's Sumitomo Corp to jointly supply a floating, production, storage and offloading unit (FPSO) for the Marlim oil field in Brazil.
In a statement, Yinson said it has entered into a Letter of Agreement (LoA) with Sumitomo, which documents the intention of the parties to participate in a potential joint venture for the proposed project.
The LoA follows the signing of a Memorandum of Understanding between the two parties on April 20 last year to jointly pursue and collaborate in the leasing and operation of FPSO and FSO projects worldwide.
Salween Azila Ahmad Tauffik, the group chief executive officer (GCEO) of Majuperak Holdings Bhd, a subsidiary of Perak State Development Corp (PKNP), has resigned just after five months on the job.
Salween, 52, took over the post — which was left vacant after Rustam Apandi Jamaludin resigned on July 9 last year — on Oct 1 last year after holding the position on an acting basis since Aug 15, 2018.
According to Majuperak's filing with Bursa Malaysia, it cited to "pursue other interests" as a reason for her resignation.
TMC Life Sciences Bhd has secured an RM300 million loan to part finance the construction of hospital-related expansions undertaken by its wholly-owned subsidiary Thomson Hospitals Sdn Bhd at Thomson Hospital, Kota Damansara, Petaling Jaya.
The development cost of the project totals RM450 million.
TMC Life said the financing facility was secured from Malayan Banking Bhd.
Based on the audited consolidated financial statements of the group for the financial year ended Aug 31, 2018, the facility, when fully drawn, is expected to increase the group's gearing to 0.408 times from 0.002 times.
Property developer and resort operator Sentoria Group Bhd announced that its unit has secured a contract to design and build 659 single-storey terrace houses in Pahang, Kuantan, worth RM85.48 million.
The contract, which was awarded to its wholly-owned unit Sentoria Bina Sdn Bhd by Faja Pertiwi Sdn Bhd, also involves the sales and marketing of the said units, which will be located in Bukit Rangin 3 in Kuantan.
Sentoria said the contract commences March 1, 2019, and is due for completion by March 2021.