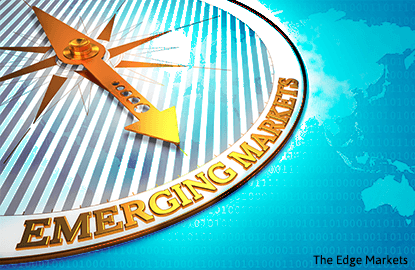 LONDON (Jan 24): The Turkish lira was flat to the dollar on Tuesday before a key central bank meeting at which it is expected to raise interest rates by at least 50 basis points, while broader emerging assets firmed, with equities at 2-1/2 month highs.
Worries over the impact of U.S President Donald Trump's protectionist trade stance kept the dollar near seven-week lows, while ten-year U.S. yields posted their biggest daily drop in more than two weeks, helping lure investors to emerging markets.
MSCI's main emerging equities index rose 0.4%, while most currencies firmed, with the rouble and rand for instance at one-week highs to the dollar and the Korean won hitting seven-week highs.
"Focus is really on the U.S. and the dollar rather than emerging markets, except maybe for Turkey," Societe Generale strategist Regis Chatellier said.
"But I think markets are a bit complacent. Trump's policy U-turns can be a game changer in so many ways and affect risk appetite negatively."
The Turkish lira has fallen 6% this year to the dollar on a weakening economy and repeated calls from President Tayyip Erdogan for lower interest rates.
But most analysts polled by Reuters expect the bank to hike its various interest rates at its 1100 GMT meeting, with its main one-week repo rate seen rising 50 bps.
This would add to authorities' backdoor policy tightening, that has lifted banks' average cost to 9.1%, from 8.3% in early-January.
Rabobank analysts predicted rates to rise around 100 bps, taking the main rate to 9% and the overnight lending rate to 9.50%. But they added:
"A 100 bps rate hike will not be a game-changer in our view as market confidence in the Turkish currency has been shattered."
Central banks also meet in Hungary and South Africa, with both expected to hold rates at 0.9% and 7% respectively.
Nigeria's central bank is also due to meet and is also expected to make no change to interest rates. But investors will focus on the post-meeting news conference to gauge if the central bank plans any steps to close the gap between the official and parallel exchange rates. Most analysts expect a devaluation later this year.
Meanwhile, the emerging markets Eurobond rush continued, with Egypt opening books on its three-tranche bond, marketing the 10-year issue at 7.625%-7.875%.
SocGen's Chatellier said the pricing looked "attractive" on the 10-year leg, offering a yield pick up of around 10-15 bps on what he saw as fair value.
He estimated sovereign emerging debt issuance at around US$20 billion so far this month, or twice the monthly average, with chunky deals seen last week from Argentina, Colombia and Turkey.
"Turkey was the most surprising one.. There was a lot of noise around Turkey and the fact they were three times oversubscribed shows how much appetite there is," he added.