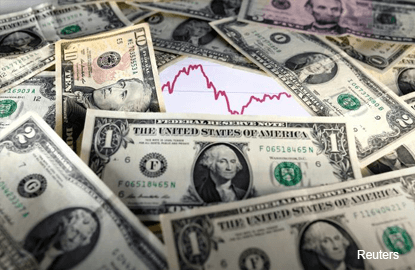 LONDON (March 7): The dollar steadied against a basket of currencies in early European trade on Tuesday, still stuck below highs hit in December and January after two weeks in which expectations for a rise in U.S. interest rates this month have soared.
The biggest movers among the G10 group of major currencies were sterling and the Australian dollar, which gained after a meeting of the country's Reserve Bank, before handing back most of those gains as European dealers arrived.
The peaking of a year-long surge in metals prices has seen the Aussie fall back and it was the hardest hit of the major currencies in last week's swift move to price in a March rise in Federal Reserve interest rates.
Against other currencies, however, the U.S. dollar has done less well, failing to break conclusively below US$1.05 to the euro or 112 to the yen.
"If you had told me expectations for a March hike would reach almost 100 percent, I would have said we would have been well below US$1.05," said Niels Christensen, a strategist with Nordea in Copenhagen.
"The disappointment in that move caused more profit-taking on Friday, but I don't see the euro moving much higher from here."
The dollar index rose less than 0.1% to 101.70 by 0900 GMT. Against sterling it gained 0.2% to US$1.2211 and traded broadly flat at 113.94 yen and US$1.0580 per euro.
Comments overnight by Trump administration trade adviser Peter Navarro pulled attention back to concerns over the White House's attitude to trade and the dollar, as officials prepare for G20 meetings later this month.
Navarro, who has previously said an undervalued euro gave Germany an edge over its trading partners, said on Monday that the US$65 billion U.S. trade deficit with Germany was "one of the most difficult" trade issues, and bilateral discussions were needed to reduce it outside of European Union restrictions.
Trump's policy pledges on domestic spending and taxation are generally thought to point to a stronger dollar but both the president and a number of his officials have indicated dissatisfaction with the current strength of the greenback.
The U.S. publishes trade balance figures on Tuesday. One surprise during Asian time was a rise in China's currency reserves, which had been expected to fall again sharply in February.
"Given negative valuations effects this suggests there wasn't any intervention to support the yuan in February," said Societe Generale strategist Kit Juckes. "That helps Asian currencies for now, including the Aussie."