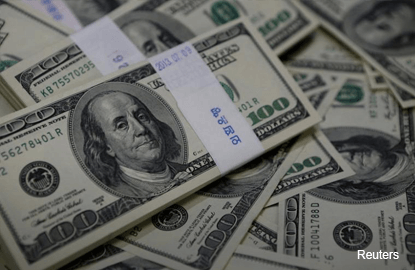 TOKYO (March 7): The dollar steadied on Tuesday as investors widely expect the Federal Reserve to raise interest rates next week and are waiting for clues on the likely pace of hikes, including this week's U.S. job data.
The dollar index, which measures the greenback against a basket of six major peers, last traded at 101.65, ticking up from a one-week low of 101.22 on Monday.
A Fed policy decision is due at the end of its March 14-15 meeting. Fed Chair Janet Yellen said on Friday raising interest rates this month would be appropriate, if jobs and inflation data hold up.
While a hike next week is "near certain", investors "are still doubtful if the Fed would raise rates three times this year," said Takahiko Sasaki, market economist at Mizuho bank.
"Investors can't take a big move before Friday's U.S. jobs data and the Fed's economic projections next week," said Sasaki.
Concerns over President Donald Trump's ability to focus on his promised economic policies remained after the U.S. leader alleged over the weekend that he was wiretapped by his predecessor, Barack Obama.
Some analysts say the dollar would not see a further rally unless Trump announces detailed economic policies.
"The dollar is not likely to gain further against the yen, with an expected range around 111 to 115 yen during March," said Masashi Murata, senior currency strategist at Brown Brothers Harriman.
"Investors are seeing difficulty for Trump to immediately legislate tax cuts and infrastructure spending. But they can't sell either because the March rate hike is highly likely," added Murata.
The euro last stood at US$1.0582, still short of its two-week high of US$1.064 touched on Monday.
Francois Fillon won his party's backing to be its candidate for French president, hours after a former prime minister Alain Juppe ruled out an election bid.
A poll on Friday had shown that if Juppe replaced Fillon as the centre-right candidate, he would likely win the election's first round, with centrist candidate Emmanuel Macron coming second - a scenario that would knock far-right leader Marine Le Pen out of the race.
Party leaders swung behind Fillon despite allegations that he had misused public funds.
The dollar edged up 0.1% against the yen to 113.92 yen, after falling to a one-week low of 113.53 yen on Monday, as geopolitical uncertainties prompted investors to buy the perceived safe-haven Japanese currency.
North Korea's launch of four ballistic missiles had spurred yen-buying on Monday.
Markets had a muted response to a stronger-than-expected U.S. factory orders. New orders for U.S.-made goods increased for a second straight month in January, suggesting the recovery of the manufacturing sector was gaining momentum.
The Australian dollar inched higher after the central bank kept interest rates unchanged and showed no hint of considering another easing, underlining the outlook for steady policy.
The Reserve Bank of Australia's (RBA) March policy meeting ended with rates unchanged at 1.5%, as widely expected, and the accompanying statement was generally upbeat.
The Aussie was last up 0.6% at US$0.7621, after fetching US$0.7633 on the policy decision.