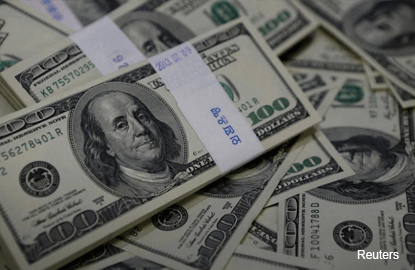 TOKYO (Feb 27): The dollar firmed in Asian trading on Monday, pulling away from a two-week low against the yen but lacking momentum as investors awaited this week's speech by U.S. President Donald Trump for clues on tax reform.
Trump will make his first major policy address to Congress on Tuesday, which is expected to include some details of his infrastructure spending and tax plans. Some market participants worry that a lack of details could disappoint investors and weigh on the dollar.
On Sunday, Treasury Secretary Steven Mnuchin said in a televised interview that Trump will use the event to preview some elements of his sweeping plans to cut taxes for the middle class, simplify the tax system and make American companies more globally competitive with lower rates and changes to encourage U.S. manufacturing.
The dollar edged up 0.1 percent to 112.04 yen, after falling as low as 111.925 yen on Friday, its first foray below the 112 level since Feb. 9.
The euro was steady on the day at $1.0562, as concerns about France's upcoming election continue to pressure the single currency. While current polls show National Front leader Marine Le Pen losing either to centrist Emmanuel Macron or right-wing Francois Fillon, investors have not counted her out, and many fear that she could lead France out of the euro zone.
"The dominant themes now are Trump's tax plan, and the French elections," said Masafumi Yamamoto, chief forex strategist at Mizuho Securities.
"I think ahead of Trump's speech, the dollar is likely to again fall below 112," he said. "What surprises me today is the weakness of sterling. The Scots want to have another referendum, so probably that is weighing on sterling."
Sterling skidded 0.4 percent to $1.2419.
The Scottish government is increasingly confident it can win a new independence referendum and is considering calling one next year as Britain exits the European Union, sources close to the Edinburgh administration say.
Lower U.S. Treasury yields have also weighed on the greenback in recent weeks.
The yield on the benchmark U.S. 10-year note skidding to five-week lows last week. It stood at 2.318 percent on Monday, not far from Friday's U.S. close of 2.317 percent.
Putting pressure on U.S. yields, economic data on Friday showed new home sales grew less than expected in January. Consumer sentiment weakened, though it remained at a level consistent with a healthy pace of consumer spending.
But speculators have not counted the dollar out. They increased bullish bets on the U.S. dollar for the first time in seven weeks, according to Commodity Futures Trading Commission data released on Friday and calculations by Reuters.
The value of the dollar's net long position totalled $15.02 billion in the week ended Feb. 21, up from $14.99 billion the previous week.
The CFTC data also showed net shorts of 50,162 Japanese yen contracts, the lowest in more than two months.
The dollar index, which tracks the U.S. unit against a basket of six major rivals, benefited from sterling's weakness and edged up 0.1 percent to 101.15. - Reuters