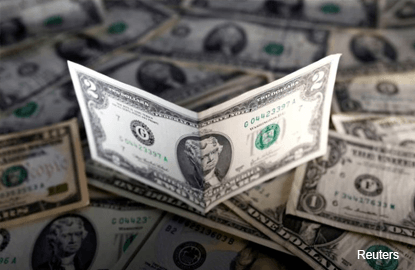 LONDON (Jan 27): The dollar recovered another half a percent against a basket of currencies on Friday, after President Donald Trump suggested he would push ahead with a 20% border tax on Mexico.
The dollar has climbed for two days as markets refocused on Trump's pro-business policies and expectations the greenback would gain from a rise in border tariffs, lifting the currency off seven-week lows hit on Wednesday and leaving it flat for the week.
Some academic studies have suggested that a 20% border tariff on imports would be likely to provoke up to the same amount of strengthening on the dollar side, as the economy adjusted and more capital was forced back to the United States.
On the other hand, there are concerns that a trade war with major trading partners might have other effects that unnerve markets and prompt investors to head for safe-haven currencies like the yen or the Swiss franc.
The 4% fall in the dollar in the three weeks from Jan 3 reflects more doubts about how the new president's policy mix will play out for the currency, particularly after both Trump and Treasury Secretary Mnuchin hinted at concerns over its strength.
But many analysts cast it as a necessary adjustment to market positioning, before the dollar can deliver on what were widespread expectations of a strong rally in 2017.
"The market is back on this positive story about Trump's tax and spending policies. It is gaining on a broad basis," said Antje Praefke, a strategist with Commerzbank in Frankfurt.
"(Whether) this politics is positive for the dollar in the long-term may be a different story. You need more information about what he will actually do and how that will play out and impact the dollar. But for now the market buys the growth story."
The dollar index, which measures its strength against six major peers, gained 0.3% to 100.66 in early European trade, up from a seven-week low of 99.793 hit on Thursday.
It was steady on the day at US$1.0678 per euro and half a percent higher at 115.14 yen.
The franc, held down by intervention by the Swiss National Bank in recent months, hit a seven-month high on Thursday, on news of Johnson & Johnson's US$30 billion takeover of Actelion.
"There was a lot of chatter about this deal yesterday," said a dealer with one bank in London.
"Whether they are actively doing it at the moment, we can't say, but the franc has certainly proved far stronger than other currencies against the dollar as well."