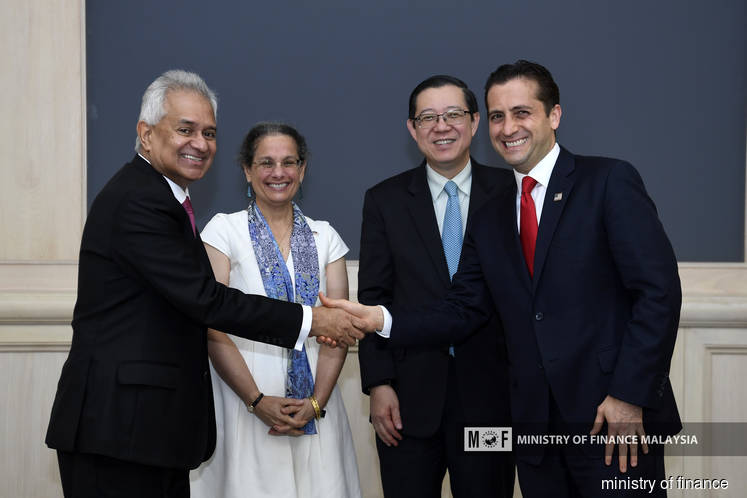 (From left): Attorney General Tommy Thomas, US Ambassador to Malaysia Kamala Shirin Lakhdhir, Finance Minister Lim Guan Eng, and US Principal Deputy Assistant Attorney General John C. Cronan at yesterday's meeting to discuss the repatriation of 1MDB assets in the MoF, Putrajaya. Photo by MoF
KUALA LUMPUR (May 8): Finance Minister Lim Guan Eng says the repatriation of 1Malaysia Development Bhd (1MDB)-related assets from the US and Singapore will be used to service 1MDB's debts currently amounting to RM51 billion.
In a statement today, Lim said the RM51 billion debt includes the amount of interest borne and loans from the Ministry of Finance (MoF) of RM8.6 billion that were used to repay 1MDB's debts to date.
Besides that, the funds will also be used to pay legal and litigation costs arising from efforts to repatriate and dispose of 1MDB assets around the world, he added.
"The repatriation of these assets is a first step towards resolving the issues that surround 1MDB and the recovery of Malaysia's reputation so that the country will no longer be known as a kleptocratic nation," Lim said.
The finance minister also highlighted the fact that these assets were repatriated to the Malaysian government through legal processes proved that 1MDB-related wrongdoings have indeed occurred.
"The government will continue in its efforts to recover other 1MDB assets, and at the same time strengthen internal controls and anti-corruption initiatives to prevent such incidents from recurring in the future," he added.
Yesterday, Attorney General Tommy Thomas revealed that the US government had returned US$57.04 million given up by Red Granite Pictures, a US-based film production company linked to former prime minister Datuk Seri Najib Razak and his stepson Riza Aziz (see Table 1).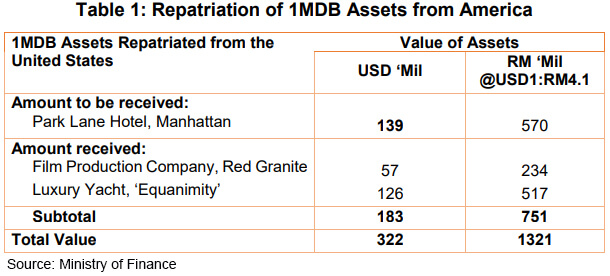 The money, which has been credited into Malaysia's 1MDB asset recovery account — a segregated trust account opened specifically for this purpose — is part of the US$60 million that was forfeited from Red Granite following a settlement recorded before the Court of California in the US in March last year.
The US Department of Justice (DoJ) has returned US$126 million (RM517 million) worth of 1MDB-related assets to Malaysia so far. This includes the amount given up by Red Granite Pictures as well as proceeds from the sale of confiscated luxury yacht Equanimity.
In total, the Attorney General's Chambers announced that US$322 million (RM1.3 billion) from 1MDB assets is to be returned to Malaysia following the DoJ's Kleptocracy Asset Recovery Initiative.
Of this, the DoJ is in the process of returning US$139 million (RM570 billion) to Malaysia from the sale of fugitive businessman Low Taek Jho's interest in the Park Lane Hotel in Manhattan.
On top of this, a Singaporean court had also instructed S$50 million in 1MDB-related funds to be returned to Malaysia. Of this, S$15 million (RM45 million) has been received and another S$35 million (RM105 million) is the amount to be received from Singapore (see Table 2).
Hence, the total sum of 1MDB-related assets that has been announced to be returned to Malaysian government is RM1.47 billion to date.