This article first appeared in City & Country, The Edge Malaysia Weekly, on October 26, 2020 - November 01, 2020.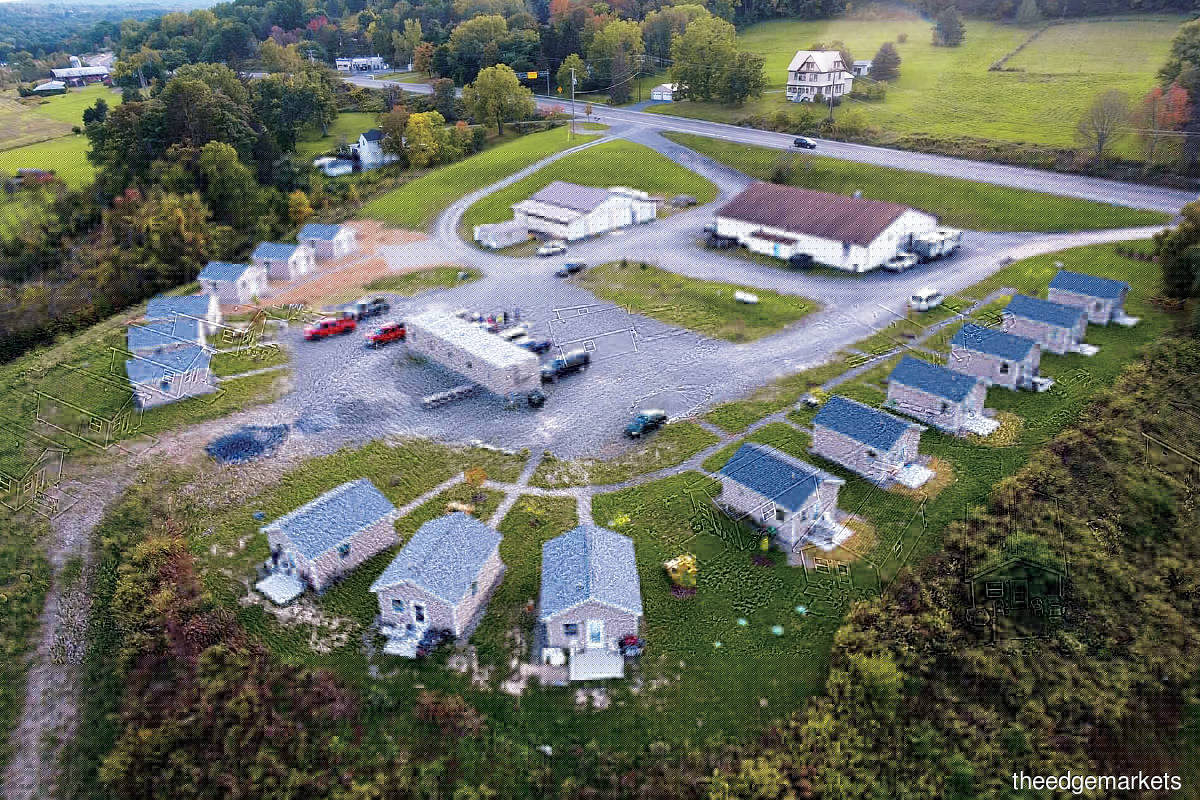 Situated on seven acres in Newfield, New York, Second Wind Cottages is a place where homeless men can find not just new homes but a community that endeavours to help restore them to society. The non-profit organisation was founded in 2012 by Newfield resident Carmen Guidi, who, after being diagnosed with leukaemia, closed his collision services business and went on a trip that changed his life.
"[That trip] was really how it started. A couple of friends of mine asked me whether I was interested to go to Haiti to build an orphanage. I think it's partly a God story for opening my heart to the possibility of helping others, and that trip really changed my perspective," Guidi says in an email interview with City & Country.
When Guidi returned home, he learnt about the "Jungle" in Ithaca — a strip of property not far from Newfield, where the homeless have lived for decades. "It hit me hard that right here in Ithaca, people are living outdoors without shelter." Guidi started spending two to three days a week at the Jungle and got to know the people living there. "I brought them things like water, blankets and food."
At the Jungle, Guidi met a man who started asking him for help to get out of homelessness and addiction. "He did not want to be in that place anymore [but] he had burnt all his bridges — social services wouldn't help him, and there was no vehicle or avenue for him to get out of where he was. He was badly stuck and was just desperately wanting to get help." When Guidi was away, that man committed suicide.
"It was a hard thing because he was asking me for help and I didn't know what to do. So, after a few days of feeling sorry for myself, I hooked up with a rescue mission in Syracuse, [asked] them to teach me [what] I needed to know to get [those] guys into rehab and housing, but there came a point where there was a group of them that could not get housed because of their history," he says.
Guidi then started buying campers, as it was a quick and easy solution to house the homeless from the Jungle. "The place was littered with campers for a while, but I knew it wasn't a long-term solution. In upstate New York, [it is very cold]. So, I came up with the idea to just build them houses," he says.
Gaining a second wind
The Newfield site has 18 cottages, each a furnished one-room unit with a bed area, bathroom and kitchenette. "This type of housing creates an atmosphere where they have a little bit more dignity I think, more privacy," says Guidi, currently the director of Second Wind Cottages Inc.
According to its executive director Sandra Sorensen, the cottages were all built with volunteer labour while costs for material, including infrastructure, were between US$15,000 and US$18,000 a cottage.
"To build this project, money was raised via personal donations from individuals, businesses and churches. People really get behind the idea of helping the homeless," she says.
Sorensen adds that Second Wind is for any man who does not have a home, including those living in the shelter, couch surfing, coming out of jail and living on the streets. "We receive referrals from local rehabs and other services and we also have a waitlist of individuals who are able to get their names [to us] through the website," she notes.
Sorensen explains why the existing Newfield housing is only for men, saying: "When the Jungle was cleared out, there were six men who were in need of housing. We were advised not to mix genders in a supportive housing situation."
Meanwhile, the organisation is working on housing for women. "We were just donated a house in Dryden, New York, about 30 minutes north of Newfield. It is our plan to fix up that house to be a place for women. As this is very early on in the project, there are not many details to share." The non-profit also plans to expand into other types of low-barrier housing in future, she adds.
"We also have a very active Homeless Crisis Alleviation team that serves, along with many local resources, the community of people still living outdoors in the Ithaca Jungle."
According to the Second Wind Cottages website, residents are required to pay a monthly programme fee as they are able to, to help meet operating expenses. Inability to pay does not, however, exclude a potential resident.
Based on the occupancy agreement, the monthly rent/programme fee of US$850 (RM3,530) can be met via government housing assistance and up to 25% of the residents' gross monthly income. If both are insufficient to cover the full programme fee, the balance will be sponsored by donors via sliding-scale sponsored housing assistance. Services such as water, waste removal, basic cable as well as snow removal and maintenance will be covered by the operator.
To establish a positive environment at Second Wind, residents are required to agree to and sign a code of conduct also known as "the good neighbour policy" before moving in. Among other things, the policy requires residents to remain clean and sober throughout their stay, and to work regularly with the support team and an assigned community partner towards their goal.
In addition, residents are required to participate in the organisation's Flexible Programming, which allows individuals to focus on restoring different areas of their lives at different times. As they accomplish their goals, they will continue to establish and work towards new goals until they are ready to move on to independent living.
"We meet with the guys regularly and assist them in overcoming barriers that caused them to be homeless one at a time as they are ready," Sorensen says.
The programme aims to equip the men with practical skills that allow them to provide themselves with food, clothing and shelter, as well as form positive relationships within their community. Practical skills include understanding and using public transport, identifying and completing needed paperwork for organisations, advocacy at meetings, following up with health issues, budgeting, cooking, cleaning as well as finding and maintaining employment.
Residents are also encouraged to develop positive personal goals in areas such as education, employment, spirituality, substance abuse, mental health, relationships and health and fitness.
As the process of restoration is often bumpy, part of Second Wind's flexibility is to allow men to fail in their goals, often meaning they leave Second Wind for a period of time and return when they are ready to try again.
Sorensen shares a story about Tom, who desired change after living in the Jungle for nine years. "Tom was one of the nine friends Carmen Guidi provided a camper for in 2011. His drinking [problem] started at the age of 15, which controlled his life for 30 years. In January 2014, Tom moved into one of the cottages. During his time at Second Wind, sobriety was a challenge. Each time he relapsed, his friends at Second Wind encouraged him to try again, making healthier choices. Declining health was a big motivator and, with the support of Second Wind, he prevailed.
"The six years spent at Second Wind transformed Tom into a new person. He obtained his driver's licence, acquired a car and managed all of the financial responsibilities to go with it. Until his health declined, he maintained employment. Tom was a great neighbour and friend, often seen helping others with transport. He eventually moved on to stable housing at Titus Towers and continues to be part of the work at Second Wind." Tom was also the one who named the place, as he said, "being here is like getting a second wind".
Being part of something
According to Sorensen, this project can be emulated anywhere in the world. "There are a lot of options and models needed to solve this problem of homelessness. The more diversity in the options, the more likely we are going to eradicate homelessness."
As each situation is unique, they recommend first making local connections. "Talk to others in your local area who have a passion for the homeless and put your brains and resources together to create a vision."
The organisation has three part-time volunteer staff members — two who work with the men and one who is a Homeless Crisis Alleviation coordinator. In addition, there are eight volunteer community partners who work with the guys and many other volunteers that help with things such as administrative work, food prep and cleaning. "Three of our residents are also paid to do cleaning as 1099 employees [self-employed workers or independent contractors], whereas two of our residents hold volunteer staff positions, helping with maintenance and events for the residents," Sorensen explains.
While monetary donations are always welcome, Guidi says getting people to engage in the cause is more crucial. "We can build a hundred of these houses and put people in housing but, until they connect with another human being, it's all for nothing," he says.
"[We need people who] can come and help with rides … to take them to a doctor's appointment, get to know them, get to know their stories, connect with them; that's what makes the difference in their lives.
"When you're living in a tent with no food, no water, no electricity, you're invisible. You're not part of anything. Here, they feel they are part of something. When the volunteers come to work, they work with them and they feel like they have worth. We all want to feel like we have worth, that we're needed, that we're wanted. I mean, we were made for community, and this really helps build that back into them. They have dreams and there's hope in their lives now. It gives them a new life."