This article first appeared in City & Country, The Edge Malaysia Weekly, on June 17, 2019 - June 23, 2019.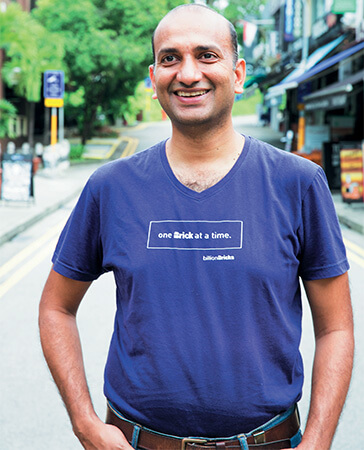 At every level, the use of technology is critical from an engagement standpoint with our communities and donors as well as in the building standpoint — Prasoon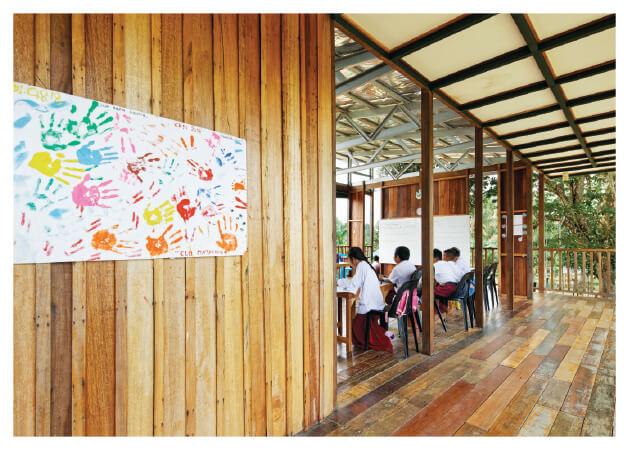 Due to its location that is prone to flooding, Etania Green School in Beaufort, Sabah is built on top of shipping containers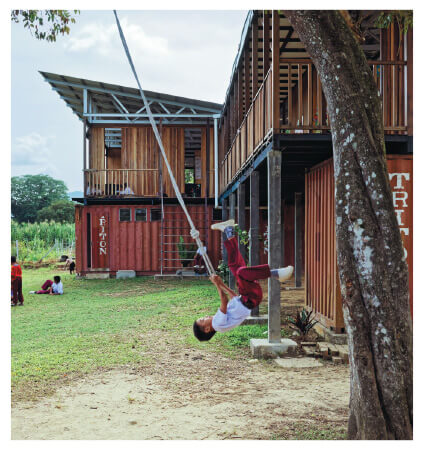 Due to its location that is prone to flooding, Etania Green School in Beaufort, Sabah is built on top of shipping containers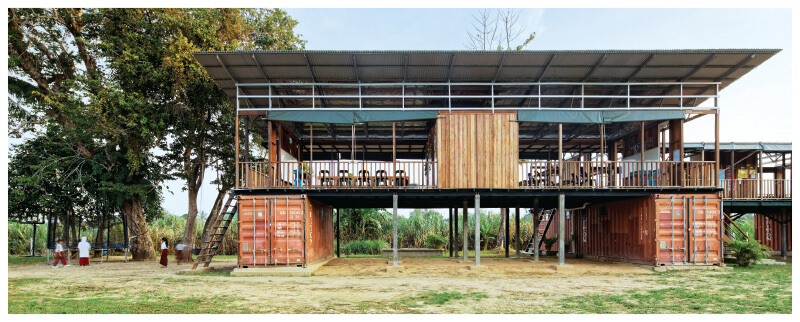 Due to its location that is prone to flooding, Etania Green School in Beaufort, Sabah is built on top of shipping containers
At least 150 million people, or about 2% of the world's population, are homeless while another 1.6 billion, or more than 20% of the global population, lack adequate housing, demographer Joseph Chamie wrote on YaleGlobal Online in 2017, citing national reports.
These are just estimates, as accurate numbers are difficult to obtain due to the widely varied definitions around the world. Even so, the numbers are alarming, says Prasoon Kumar, who is one of the many people doing their bit to tackle the problem.
Prasoon is the co-founder and CEO of billionBricks, a Singapore-based non-profit organisation that has worked with the homeless and displaced communities since 2013. Under his guidance, the organisation has rehabilitated more than 4,300 homeless and disaster-stricken people in India, Indonesia, Malaysia, Cambodia, Nepal, the US, Canada and Europe.
When asked what made him embark on this mission, Prasoon says his job as an urban planner and architect in the corporate sector made him realise that his work touched mostly the middle and upper classes.
"It struck me that despite all the development [in Asia], the effect wasn't trickling down," he adds.
Growing up in Delhi, Prasoon remembers that although his family was not very wealthy, they still had a good quality of life. Recently, he returned to Delhi to work on some projects and noticed that the quality of life had dropped, even though there were more cars, fancy buildings and air-conditioned towers.
"There was more pollution, trash issues, safety problems, slums and people living on the streets. I have worked in Jakarta, Manila and Kuala Lumpur and these are the common things I came across in all the [developing] cities. You would find a large population living in the slums or out in the streets," he says.
That was when he began to question the purpose of his work. He met many experts who talked about a more holistic and sustainable approach to development. "I would say these experts knew the answers but I don't see the change and development in that form really happening."
Eventually, after attending a conference on affordable housing in Manila, Prasoon decided to quit his job. "During the conference, many development professionals talked about the good things they were doing but their scale of development was very small. It went back to the fact that people seemed to know the answer but you don't see action," he says.
That was when he decided to walk the talk and set up billionBricks.
What it is all about
The organisation uses design and technology to innovate shelter and infrastructure solutions for the homeless and vulnerable.
Prasoon says billionBricks does not have a single concept but, rather, it is stringent about certain principles.
First, it looks at a general problem faced by the homeless in a large community.
Second, when designing or creating solutions, it focuses on meeting the needs of the people and looking at what their aspirations are.
"We try to design for the future. It is just like owning a smartphone, which can last for 10 or more years, and you keep upgrading it and it remains relevant for you," he adds.
Third, the organisation sees homeless people not as a beneficiary but as a customer. "This means that we don't find the cheapest or the poorest solution. We don't want to provide something that we think is the right and appropriate solution. We are providing what they need and want," Prasoon explains.
An example would be the weatherHYDE tent — an insulated, reversible, lightweight and women-friendly shelter designed to house the homeless in extreme weather conditions.
The triple-layer flysheet is suitable for cold climates as the reflective layer inside provides warmth by trapping body heat. It also blocks out light and does not cast embarrassing shadows, hence, creating a safe and private haven for women. Meanwhile, the frame's weight eliminates the need to anchor it to the ground.
billionBricks incorporates technology into every aspect of its work — from design to construction to engaging with its partners and donors.
The back-end technology used in the weatherHYDE tent is high-end, says Prasoon. "We use various software for the tent's design and the shape and strength of the structure. The most important thing we wanted for the design, as I said before, is the future readiness of the solution."
Technology is also a part of the company's method of construction, namely prefabrication. "We make it foolproof in a way that we don't need to train people to operate that technology and they will still find it easy to use," he adds.
All projects and tents are geolocation-enabled, he says, which allows donors and partners to track them through billionBricks' website. "They can punch in a QR code provided by us and see where the tent is located and who has received it."
"At every level, the use of technology is critical from an engagement standpoint with our communities and donors as well as in the building standpoint," Prasoon says.
Projects by billionBricks
The organisation has projects around the world but Prasoon says it does not decide where it does its projects. All projects are done with local partners.
"People approach us and if we find that the work is aligned [with our principles] and we can use our skills and abilities to work with them, then we will proceed [with it]. We look at the homeless and our partners and customers. We cannot take credit for our global presence," he adds.
In Mumbai, India, a shelter for street children aged 6 to 17 years old was built. "Parents who live on the streets can send their children to live there. It is like a hostel facility where education is provided in the daytime," says Prasoon.
Another project, Smile Village, is located in Cambodia, where about 160 homeless families now reside. There is a school for the children there along with entrepreneurship centres and chalets for guests to stay.
Currently, the organisation is in the process of building solar homes called powerHYDE in Math Jalgaon in India and Tacloban in the Philippines.
They are considered the world's first carbon-positive residences for the homeless. Each powerHYDE produces four times the amount of energy needed for itself. The additional energy is sold in order to power other communal facilities and at the same time generate extra income for the families who own them.
Etania Green School for stateless children aged 5 to 13 years old in Beaufort, Sabah, is another one of billionBricks' completed projects.
It is built on top of shipping containers, which serve not only as a foundation but also a storage area and toilets.
Prasoon says the school is located right next to the river, hence, it is prone to flooding. "We want to make sure that the building is protected from the water. We are fortunate to have access to shipping containers and we decided to use them as the foundation."
The non-governmental organisation (NGO) that runs the school, Matakana Educational Consulting, has plans to build another 30 schools across Sabah.
Etania Green School, Prasoon adds, is the first prototype and Matakana wants this design to be expandable.
"So, we designed this one school and we can take this module, modify it and build multiple schools. The design is simple enough that the locals can be trained to build it themselves without having to depend on us," he says.
Other than the shipping containers, the main structure uses recycled timber with some concrete columns. The roof uses aluminium, tin sheets and steel.
Challenges and future plans
The greatest challenge, according to Prasoon, is that as a non-profit organisation, getting funding is not easy. "But I also realise that people focus too much on the funding part rather than really creating value for the poorest of the poor.
"Generally, when it comes to building homes for the homeless or working for the poor, the conversation will be led away from the quality of work to the cost. We want to ensure that what goes out is sustainable and it is something that is liked by the people. At the same time, it uplifts the quality of life," he adds.
Prasoon says a majority of the funds come from wealthy individuals who believe in the boundaries that billionBricks is pushing in the non-profit sector. There are also some corporate foundations globally and individual donors who support them.
"The work that billionBricks does is not only focused on housing but also on research and development. So, we get to meet with people who have different funding agendas."
The organisation's mission is to create solutions like weatherHYDE and powerHYDE that can be scaled to a massive level globally.
"A lot of our work is [building] partnership with other non-profit [organisations] and we are happy to share our knowledge and expertise with others. This allows our work to scale rapidly and it would help overcome the dependency on us," says Prasoon.
A part of the production of the weatherHYDE tent will be moving to the US, where an NGO will manufacture and expand it in the local market.
"We believe that in the next couple of years, we would have really scaled up our tents and solar homes to potentially reach a few hundred thousand people and, in the next five years, to more than a million people with the help of our partnerships and other organisations," says Prasoon.
He hopes that billionBricks' different approach to the work will motivate others to see homelessness in a different way and come up with more robust solutions.