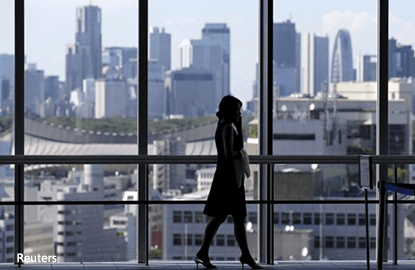 SINGAPORE (Nov 22): As both a woman and a person of colour, Erika Irish Brown spent over 15 years of her career in the financial sector feeling fortunate to have been given what she saw as equal opportunities as everyone else in the US.
Her first stint at Wall Street was incidentally via a minority internship programme in 1990.
"I was among a group of four 'minority interns'. At the time, words like 'diversity' weren't really a concept yet. If you were talking about diversity, I'd assume you were referring to asset classes and portfolios," she laughs.
"We were literally afforded the opportunity to get our start on Wall Street. There were not many [people like me back then], so it also felt a bit isolating. It was then when I began to feel it was important to help create the same opportunities that I was afforded, for others."
Brown has been serving as the global head of D&I at Bloomberg LP's headquarters in New York since 2014, and was recently in Singapore to speak on a panel about females in technology at the Singapore FinTech Festival.
From numbers to people
It was 12 years ago when Brown's career in investment banking and capital markets took an unexpected turn, after Lehman Brothers Holdings invited her to join as its head of diversity lateral recruiting. This marked her foray into a then-budding professional industry which we call diversity and inclusion (D&I) today.
"Lehman Brothers did a lot of great work before its demise [in 2008] in terms of developing some cutting-edge diversity programmes," she recalls.  
"In fact, they were the first to launch a programme for women returning to the workforce. Back then, even of the best companies you could think of would offer only 12 days of maternity leave. There was no consideration that the father could be the primary caregiver, either.
"Lehman Brothers were the first to roll out such a programme to facilitate the re-entry of women into the workforce, and that opened up a whole new talent pool that the markets were losing."
D&I as a business imperative
Since then, Brown has fully committed herself to implementing corporate D&I strategies, leveraging on her networks and experience from the years spent in her roles in finance to forge a path for best practices in D&I.
Part of the challenge she faces is creating awareness of D&I as "not just a nice thing to have" as a company – but a business imperative.
"There's a lot of data out there that shows how diverse companies simply perform better, and that's what we have to make sure people understand. D&I is an educational awareness process that takes time. Even getting the right data, and figuring out how to put the whole programme in place as well as measure how effective it is after… None of this easy," stresses Brown.
Earlier this year in March, Bloomberg announced the launch of its Financial Services Gender-Equality Index (BFGEI): an index of standardised aggregate data across company gender statistics, employee policies, gender-conscious product offerings, and external community support and engagement.
"We're doing this to create transparency in the marketplace," she explains. "What kind of policies does your company have that are gender-friendly? What kind of products does your company have that targets diverse clients? It's a really balanced way of looking at companies, and not just the numbers."
Different strokes for diverse folks
Brown emphasises that D&I is not limited to the subject of gender alone, but also applies to working towards the inclusion of other minority groups such as people with disabilities and lesbian, gay, bisexual and transgender (LGBT) communities, just to name a few.
"I do believe that D&I is a younger concept in the Asian region that in the US," opines Brown. Every company is "phasing" in such a diverse manner that different approaches need to be tailored to their organisational needs, she adds.  
"Here in Asia, we have a specific initiative focusing on local leadership. How do we build Asian leaders to lead not just in Asia, but for the region, and as global leaders? How do we create that pipeline, especially in a US company where a lot of leadership roles were initially from the US – and how do we make sure they get that right global exposure?"  
'A race without a finish line'
Presently, Bloomberg's D&I team is in the midst of conducting staff training courses across its global offices on the subject of unconscious bias: attitudes and beliefs formed based on social stereotypes beyond one's conscious awareness.
This comprises a 90-minute session which Bloomberg targets for every management staff member to have gone through by the end of 2016, says Brown. The programme has been "very successful" thus far, she adds, as 92% of those who have attended the course have stated in the post-training survey that it was time well-spent.
"A lot of people don't realise what social or cultural conditioning is. Just seeing that momentum, seeing an increase in engagement by our business leaders and the progress being made [as a result of Bloomberg's D&I initiative]… That is really rewarding," says Brown. "To quote my chairman, Peter Grauer, this is a race without a finish line. This is a journey. D&I is such a broad topic and frankly, that's what keeps me here [in this profession]… There are so many dimensions to it. You can't boil the ocean; you'll have to pick your spots, and roll things out accordingly.
Every firm's going to make a decision to do something slightly different when it comes to D&I."