This article first appeared in The Edge Malaysia Weekly, on September 30, 2019 - October 06, 2019.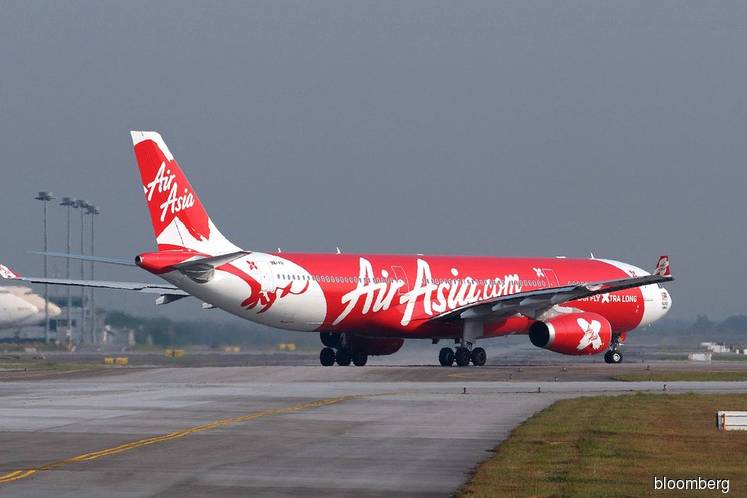 Photo by Bloomberg
WILL AirAsia X Bhd (AAX) and Malaysia Airlines Bhd (MAB) end up merging? That remains up in the air, but what is clear is that it may not be a marriage of equals.
Furthermore, any proposed combination of the two carriers may face significant challenges ahead in terms of the workforce and public sentiment.
The obvious potential upside would be the resulting consolidation of AAX and MAB, which are competitors for long-haul travel. In theory, that would relieve competitive pressure on average fares and improve yield.
For perspective, AAX's average passenger fare fell to RM513 in the first three months of 2019 — the lowest in four consecutive first quarters. Its second-quarter average fare of RM437 was slightly better than the RM418 in the previous corresponding quarter last year.
On the flip side, a merger of such magnitude is likely to see further workforce and supply chain rationalisation of the newly created entity, which would not sit well with many stakeholders.
There is a possibility that the prospect of facing such resistance could be more trouble than it is worth for AAX, supporting the argument that it should wait it out as it is expected to outlast MAB.
Recall that there was a huge public outcry when the current Malaysia Airlines turnaround plan was announced, resulting in, among other things, the reduction of its workforce by 6,000 jobs or a third of total staff. Its stable of vendors would also likely be impacted.
There is also the issue of reconciling a likely culture clash between MAB and AAX. Thus, any such merger is likely to require a great deal of political courage to push things through, especially as the exercise may be interpreted as the sale of a national asset to the private businessmen and investors who control AAX.
Even entertaining that possibility, it is unlikely to be a merger of equals, given the different states that both airlines are currently in.
On the one hand, MAB is undoubtedly in financial trouble. This year, its shareholder Khazanah Nasional Bhd has had to pump in RM800 million to keep it afloat as part of a RM6 billion turnaround plan. MAB has missed multiple profitability deadlines since the plan was announced.
On the other hand, AAX is not yet in its sweet spot but is doing better than MAB despite a lacklustre financial year ending Dec 31, 2019 (FY2019) so far that saw rising fuel costs hit its bottom line.
A closer look at AAX's financial disclosures indicate that its operations remain cash-generating in 2019 so far and that results were mainly dragged down by non-cash charges.
AAX reported a RM207.11 million net loss in the second quarter ended June 30, 2019 (2QFY2019) from RM1.01 billion in revenue (-4.5% year on year), deeper than the RM57.46 million net loss in 2QFY2018. The losses follow a net profit of RM43.33 million in 1QFY2019 (+4.4% y-o-y) from revenue of RM1.17 billion (8.11% y-o-y).
Meanwhile, its total borrowings surged nearly nine-fold over six months from RM687.05 million as at Dec 31, 2018, to RM6.07 billion as at June 30, 2019.
That said, AAX reported positive cash flow from operations before working capital changes in both quarters. For the six-month period up to June 30, 2019 (1HFY2019), total cash generated from operations before working capital changes came to RM414.25 million.
What dragged its bottom line into the red in 2QFY2019 was RM231.49 million in depreciation charges, a non-cash expense. Overall depreciation for 1HFY2019 was RM446.41 million.
As for its spectacular surge in borrowings, much of the increase was due to the carrier's adoption of MFRS 16 Lease on Jan 1 this year. The adoption meant it had to recognise RM699.29 million in short-term lease liabilities plus another RM4.96 billion in long-term lease commitments. Both of these items were not on its balance sheet before then.
Excluding the lease liabilities, its other borrowings in fact reduced over 1HFY2019 from RM687.05 million as at Dec 31, 2019, to RM410.24 million, partly thanks to total debt repayment of RM766.52 million in that six-month period.
Also worth noting is that the debt repayment by AAX was made possible due to a windfall of RM542.07 million from the sale-and-leaseback of three aircraft. In 2HFY2019, AAX expects to undertake the sale-and-leaseback of another two aircraft, according to Nomura Research.
"As such, we expect total cash proceeds on asset disposal of RM999 million to be realised over FY2019F (1H2019 so far: RM542 million). This should alleviate investor concerns about a cash call. We expect net gearing to decline to 17.3% in FY2019F from 75.7% in FY2018," Nomura Research says in an Aug 23 note.
The research house also says that in 2QFY2019, AAX's underlying yields have turned positive thanks to ongoing route optimisation efforts.
Another RM400 million or so from the planned sale-and-leaseback will add to AAX's existing RM313.69 million in available cash and cash equivalents, which provides some cushion.
In comparison, MAB is thought to still be in the red in 2019 so far. On March 1, 2019, MAB group CEO Captain Izham Ismail said the national carrier posted a narrow loss in 2018 but did not disclose the actual figures.
At the time of writing, MAB's 2018 financials were not yet available on the Companies Commission of Malaysia website although it has been almost nine months since the financial year ended. In 2017, however, MAB recorded RM812.11 million in net losses (2016: RM438.87 million) from RM8.67 billion in revenue (2016: RM8.57 billion).
As at Dec 31, 2017, MAB had RM4.09 billion in current liabilities versus RM3.94 billion in current assets. Non-current liabilities stood at RM1.08 billion against non-current assets worth RM1.84 billion.
Interestingly, in March, Prime Minister Tun Dr Mahathir Mohamad had said that the government is considering whether to shut down, sell or refinance MAB after repeated restructuring failures.
That is despite a long-term business plan being drafted since November 2018. That Khazanah Nasional has acknowledged that all options are being seriously looked at vis-a-vis MAB,, though without acknowledging the proposal to merge with AAX add to an emerging picture that the shareholder may no longer believe MAB can turn around on its own.
The bottom line then is that MAB needs the merger more than AAX does. With that in mind, any deal may require sweeteners from Khazanah Nasional to convince AAX to sign, likely by way of further recapitalisation to clean up MAB's balance sheet prior to any merger.
The question then is how sweet is too sweet for Khazanah?