This article first appeared in The Edge Malaysia Weekly, on May 28, 2018 - June 03, 2018.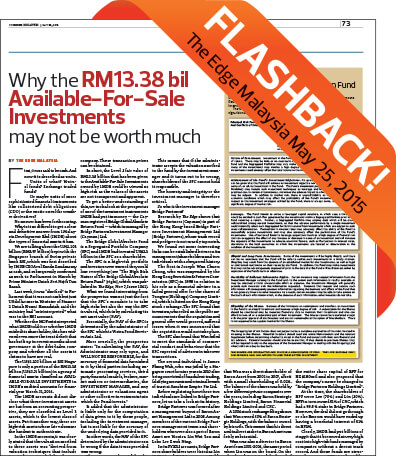 Investment analysts and fund managers always lecture us that financial markets do not like uncertainty. Investors want consistency in government actions and policies. They do not like to be shocked and surprised by "bad" news.
But is the truth bad news?
That appears to be the case for financial markets, given what happened on Bursa Malaysia last week, with stock prices taking a beating following the revelation that the actual debt of the government exceeded RM1.0 trillion. The previous government had disguised the real debt obligations by transferring some of its liabilities to off-balance sheet vehicles, according to Finance Minister Lim Guan Eng.
This spooked ratings agencies, which warned that Malaysia's debt rating could take a hit. A Bloomberg columnist even criticised Lim for being so blunt in the way he exposed the state of government finances as well as that of 1Malaysia Development Bhd (1MDB).
It seems that financial markets prefer consistency in untruths. They are aghast that we are washing our dirty linen in public.
Or, perhaps, the markets are upset because they got the results of GE 14 completely wrong.
Three weeks before May 9, a group of overseas fund managers met me to seek my views ahead of polling day. I told them that while I understood why the market had priced in a Barisan Nasional (BN) win as a sure thing, they should not rule out the possibility of a BN defeat.
I ran through some 2013 election statistics with them and pointed out that if Tun Dr Mahathir Mohamad could persuade 10% of those who voted for Umno in 2013 to vote for Pakatan Harapan (PH) this time, BN could lose 30 marginal seats that it had won previously.
I could sense that the fund managers were surprised that a 10% shift in those 30 marginal seats was all that was needed for PH to win. That said, I think they left the meeting concluding that it would not happen. It is safer to go with the popular view that BN would win, rather than be a contrarian.
The markets priced in a BN win and are now adjusting to a new environment that they are not used to — the airing of the wrongdoings  of the previous government.
Malaysians are angry over being lied to and treated like fools. As I wrote two weeks ago, we need to have a reset of Malaysia, but we must first have the truth. While fund managers can bring their money in and take it out as they please, most Malaysians live and work here. What we want is a government that does not steal from the people and lie about it when caught. And there has been no bigger deceit in recent years than 1MDB.
CEO Arul Kanda Kandasamy had continuously disputed allegations that 1MDB's financial woes were due to fraud, claiming instead that it was because of the wrong business model. Despite plenty of evidence and many exposés on the matter, including by The Edge, Arul stood his ground.
An example was the value of the so-called "units" or "available-for-sale investments". In May 2015, The Edge published an article warning that billions of ringgit of these so-called investments could be worthless (see flashback).
Last week, 1MDB director Datuk Kamal Mohd Ali told Lim and other top MoF officials, including Deputy Secretary-General Datuk Siti Zauyah Mohd Desa, that the board had doubts that these investments, said to be worth RM9.8 billion, even existed.
Enough is enough. Malaysians want the truth and financial markets had better get used to it.
Let us avoid collateral damage
Dr Mahathir told The Edge in an interview (See Cover Story on Page 70) that he intends to get to the bottom of the trangressions by the past government, especially 1MDB. We agree action must be taken against those complicit in committing and covering up criminal activities. The prime minister, however, acknowledged that some in the civil service and government-linked companies (GLCs) were pressured to help 1MDB. Although not illegal, the purchase of government land by Bank Negara Malaysia last December for RM2.0 billion is one example. In the case of Khazanah Nasional, it paid RM1.2 billion to the Finance Ministry because it decided to call back money that was given to Khazanah in 2011 under a redeemable share issue.
Money was needed to pay the interest on 1MDB's debts and pressure was exerted to get it. Under the circumstances, it would not be right if Bank Negara and Khazanah ended as collateral damage as action is taken against those behind the 1MDB scam.
---
Ho Kay Tat is publisher and group CEO of The Edge Media Group
Save by subscribing to us for your print and/or digital copy.
P/S: The Edge is also available on Apple's AppStore and Androids' Google Play.