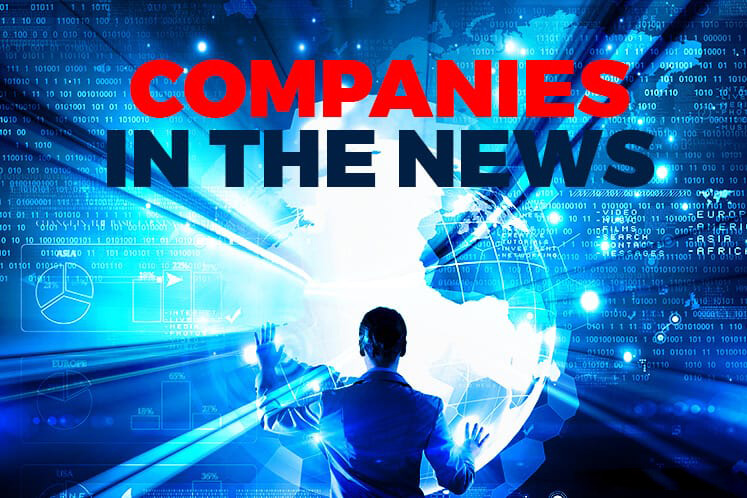 KUALA LUMPUR (Oct 17): Based on corporate announcements and news flow today, stocks in focus on Thursday (Oct 18) may include Dagang Nexchange Bhd, Kumpulan Perangsang Selangor Bhd, Malaysian Resources Corp Bhd (MRCB), George Kent (M) Bhd, Gas Malaysia Bhd, Top Glove Corp Bhd, WCT Holdings Bhd and Press Metal Aluminium Holdings Bhd.
Dagang Nexchange Bhd (DNeX) said its unit has won two contracts worth an aggregate sum of US$2.78 million or RM11.55 million to repair submarine cables laid in the Philippines and Indonesian water.
Its 51%-owned subsidiary DNeX Telco Services Sdn Bhd accepted the award today from Indonesian submarine cable system services provider Pt Bina Nusantara Perkasa (BNP), to carry out the works for cable ship KDDI Pacific Link.
The project, effective today, will be valid for a principal of 29 days, with an option for extension of up to 35 days.
Kumpulan Perangsang Selangor Bhd said its 51%-owned subsidiary Aqua-Flo Sdn Bhd has bagged a RM162.5 million contract from Pengurusan Air Selangor Sdn Bhd to supply and deliver chemicals.
Under the contract, Aqua-Flo will be providing chemicals to water treatment plants in Selangor, Kuala Lumpur and Putrajaya for a two-year period, commencing Nov 1.
The contract is expected to contribute positively to Kumpulan Perangsang for the financial years ending Dec 31, 2018 to 2020, it said.
MRCB George Kent Sdn Bhd said the Government has agreed to continue with the Light Rail Transit Line 3 (LRT3) project at a cost of RM16.6 billion — just slightly more than half of the earlier cost of RM31.45 billion in July.
This includes land acquisition costs, interests during construction and other costs.
"The implementation concept of the project will be remodelled from a project delivery partner (PDP) regime to a fixed price contract regime," said Malaysian Resources Corp Bhd (MRCB) and George Kent (Malaysia) Bhd.
Gas Malaysia Bhd announced today the successful commissioning of its second gas engine co-generation plant operated with its joint venture partner Tokyo Gas Engineering Solutions Corp.
The joint venture company, Gas Malaysia Energy Advance Sdn Bhd (GMEA), is owned 66% by Gas Malaysia and 34% by Tokyo Gas.
Gas Malaysia said the plant has officially started supplying electricity and hot water to a manufacturing plant belonging to air conditioner company Panasonic Appliances Air-Conditioning Malaysia Sdn Bhd.
Top Glove Corp Bhd expects its wholly-owned susbsidiary Aspion Sdn Bhd to meet its net profit projection of RM80 million within the next four to seven years.
"The net profit of Aspion for FY18 (ended Aug 31, 2018) is estimated in a range of RM20 million to RM30 million, which is much less than I expected which was RM80 million," Top Glove chairman Tan Sri Dr Lim Wee Chai said.
Lim said with the help of technology and the experience the group has in turning around loss-making factories in the past, he is confident to put Aspion on track to meet the group's expectations by delivering the net profit projection of RM80 million in the coming years.
WCT Holdings Bhd's indirect wholly-owned subsidiary Gemilang Waras Sdn Bhd and Aeon Co (M) Bhd have agreed to an amicable out-of-court settlement in relation to their court battle over the lease renewal of AEON Mall Bukit Tinggi.
WCT said the parties had executed a supplemental lease agreement to further renew the lease period for another six years commencing Nov 24, 2017.
This is subject to options to renew for a further two terms, comprising six years and three years respectively, it said.
Press Metal Aluminium Holdings Bhd is acquiring 50% of an Australian-based company for A$250 million in a bid to secure cheaper alumina, as well as to strengthen its market position in Southeast Asia.
Press Metal said the move to buy over half of Japan Alumina Associates (Australia) Pty Ltd (JAA) for A$250 million (RM738.975 million) cash would be effected via its 80%-owned subsidiary Press Metal Bintulu Sdn Bhd.
It said JAA holds 10% participation interest in the Worsley Alumina Unincorporated Joint Venture which owns and operates the Worsley Alumina Project — described by Press Metal as "one of the world's largest, longest life and lowest cost alumina producers."
Press Metal said the proposed acquisition will provide the group access to 5% of the annual production of the Worsley Alumina Project, amounting to approximately 230,000 tonnes of alumina, a primary raw material for smelting aluminium. This would allow Press Metal to effectively hedge the supply of alumina, and also to gain additional technical know-how in the alumina refinery business.
The acquisition will be fully funded via external bank borrowings, and is expected to be completed in the first quarter of 2019.