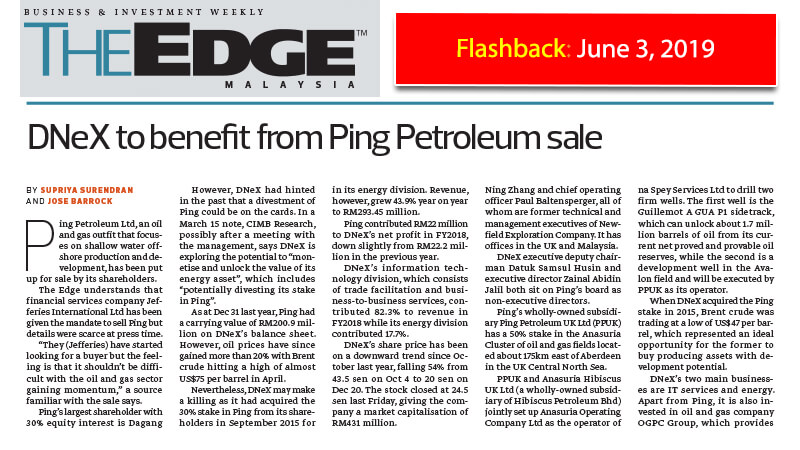 KUALA LUMPUR (June 19): Dagang NeXchange Bhd (DNeX) has confirmed that it is in talks to sell its 30% stake in its upstream oil and gas (O&G) associate Ping Petroleum Ltd.
The group is confident that it could fetch attractive valuations for the investment given current stronger crude oil prices compared with the time when it acquired the equity stake.
Speaking at a press conference after the group's annual general meeting this morning, executive director Zainal Abidin Abd Jalil said the group has been actively looking to monetise its investment although it is still very much a work in progress.
"DNeX, as a shareholder of Ping, has always been looking to monetise its investment in this associate company and we are still looking at what is the best option and how we can monetise.
"We are looking to monetise the stake within the next few years, but as soon as possible. If there is a buyer that is interested within the year, then it would be even better," he said.
Commenting on the valuation DNeX could possibly fetch for the 30% stake, Zainal said the group is not ready to reveal that, as it is still very much indicative at this point given that it depends on prevailing crude oil prices.
Asked whether it is the right move for DNeX to monetise its stake, given that oil prices are largely expected to see a rebound this year, he said there is still some downside risk to crude prices.
"Oil prices are higher now compared to when we made the investment in 2016 but there is still some risk and the market remains soft seeing as Brent crude is drifting back to the US$60 per barrel level compared to the US$70 per barrel level seen six months ago.
"So we see this as a good window of opportunity to monetise our investment in Ping," he said.
Besides that, Zainal highlighted that Ping's reserves and volume are high currently, especially for its brownfield asset, the Anasuria Cluster, which is expected to augur well for the valuation of its stake in the associate company.
"Costs are also down and we are cashflow positive. We are active in doing significant drilling campaigns and we are also looking at a new greenfield project called Avalon. These factors should anchor a much better valuation for Ping going forward.
"In general, it would be higher than our initial investment of US$10 million. As a general guide, it will be higher than its current book value of about RM200 million," he explained.
Related story: DNeX to benefit from Ping Petroleum sale