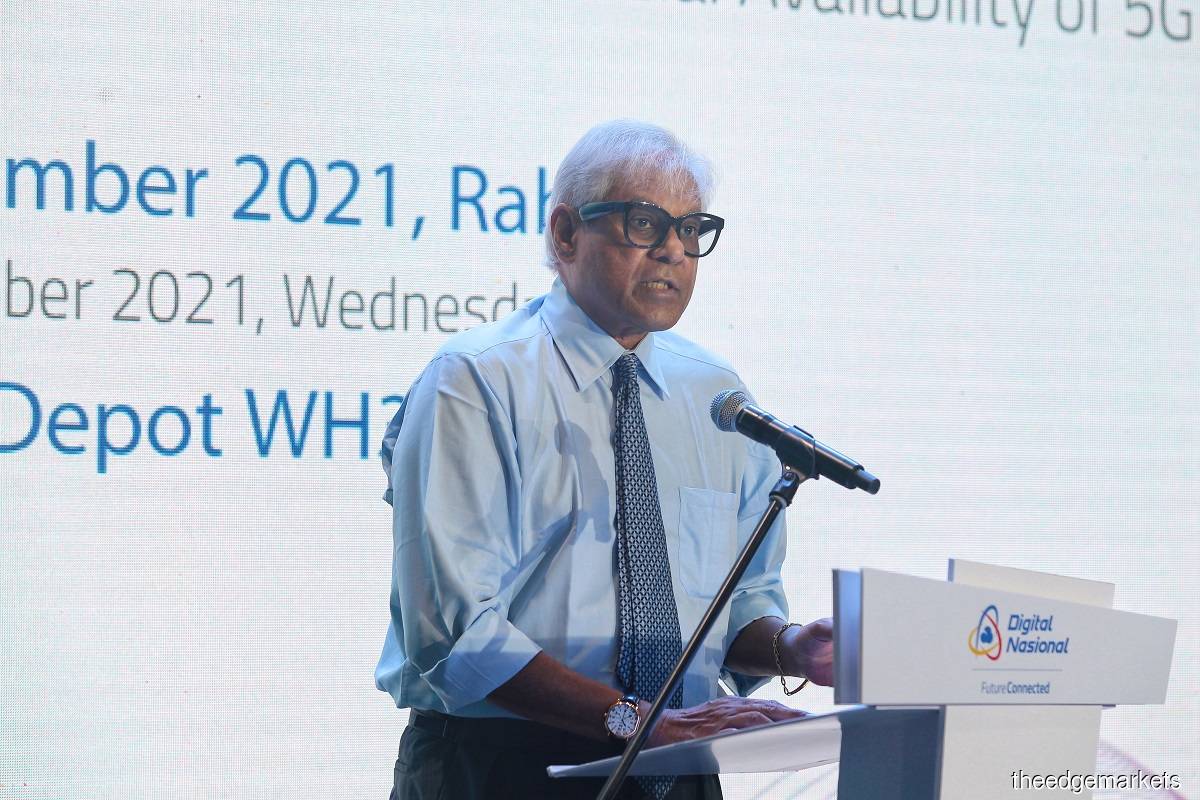 KUALA LUMPUR (Dec 15): Digital Nasional Bhd (DNB) has announced that Telekom Malaysia Bhd (TM) on behalf of unifi Mobile and YTL Communications Sdn Bhd on behalf of Yes will be the first two operators in the country to provide 5G access to their respective customers within coverage areas.
This comes after DNB announced on Wednesday (Dec 15) the country's first steps towards a 5G future, with the latest telecommunications standard now available in certain areas throughout Putrajaya, Cyberjaya and Kuala Lumpur. 
DNB said it also will be offering wholesale 5G services for free to all mobile network operators (MNOs) that are integrated into its network. This offer is applicable to 5G live sites in certain areas throughout Putrajaya, Cyberjaya and Kuala Lumpur until March 31, 2022.
On another note, DNB chief executive officer (CEO) Ralph Marshall welcomed TM and YTL Communications onto DNB's network. 
"We are pleased to welcome both TM and YTL Communications as our very first customers for the 5G network in Malaysia. TM is the country's oldest telecommunications provider, having introduced telecommunications services nearly 40 years ago in 1984, while YTL Communications is the youngest and only all-4G network provider in Malaysia. 
"Together, they have almost 4.5 million subscribers and an average monthly data demand of 40GB to 50GB per subscriber," Marshall said during the announcement of commercial availability of 5G services marking 5G availability in the country.
According to Marshall, TM and YTL Communications are the first two companies to take advantage of DNB's offer of free wholesale 5G services to all MNOs that are integrated into DNB's network.
"End users with 5G-compatible devices will be able to enjoy an average speed of 100Mbps. This means a user at the weakest point of 5G coverage would on average receive 100Mbps on a 5G-compatible device. 
"Crucially, DNB will provide wholesale 5G services to MNOs at a significantly lower cost than their present cost to produce 4G capacity. MNOs should therefore be able to offer lower prices for their customers for mobile services, which include 5G services. 
"It is hoped that MNOs will make available 5G services to their customers with compatible devices within coverage areas," he said.
Meanwhile, as a provider of wholesale 5G services, Marshall said DNB will not be competing with the industry in providing 5G retail services to end users. 
Instead, he noted that DNB is complementing efforts by MNOs with a view to accelerating adoption of 5G in the country. 
"End users are encouraged to contact their respective service providers to enquire about 5G availability," Marshall added.
YTL Communications CEO Wing K Lee said the company is excited to be the first in Malaysia to bring 5G to the rakyat through its first-to-market 5G plans. 
"The availability of 5G, supported by DNB's robust ecosystem, will accelerate nationwide coverage and adoption of 5G. YTL Communications is committed to bringing a connected tomorrow to reality for all Malaysians," he added.
Negotiations to get other MNOs on board ongoing
Negotiations to get other MNOs such as Maxis, Digi, Celcom and U Mobile to ride on DNB's newly launched 5G network are ongoing, said DNB chief commercial officer Ahmad Taufek Omar. 
"The fact is we have not stopped the progress or discussions with all the MNOs. 
"Communication is very consistently going on and we are still talking to them on a daily basis. Even as of last night, we had sent the new mark-up version of documentation to them. To us, it is business as usual," he said at a press conference after the event. 
Ahmad Taufek further noted that the onboarding of Telekom Malaysia and YTL Communications on DNB's 5G network means the commencement of the commercial pilot which allows subscribers to the two telecommunications companies to enjoy 5G services.
"Long-term agreements will only be signed after the publication of the reference access offer, which is subject to the Malaysian Communications and Multimedia Commission's approval, after which we will start the negotiations on how we are going to sign the long-term wholesale agreements," he said.
Meanwhile, DNB chairman Datuk Asri Hamidon, who was also present, abstained from commenting further on a recent Reuters report, noting only that for any operational matters or issues regarding the government's decision, one should wait for announcements by Communications and Multimedia Minister Tan Sri Annuar Musa or the government.
Reuters reported on Tuesday the country's major wireless carriers had recommended for the government to allow a second 5G service to be set up, citing three sources and documents seen by the wires, ahead of a Cabinet decision on whether to go ahead with the plan for a single wholesale network.
Annuar said last week that the Cabinet will decide by January whether to allow multiple 5G providers, following industry players' concern that a single state-run network could hamper competition. 
Reuters in November reported an impasse between mobile operators and DNB over pricing and transparency issues.
Read also:
MoF estimates total cost of 5G coverage at RM12.5b 
To receive CEO Morning Brief please click here.